US and N Korea agree on war remains
'SOLEMN MISSION': About 5,500 Americans missing from the Korean War are believed to be in North Korea, and the searches are a means of fostering mutual understanding
The US said on Friday it reached a deal with North Korea to resume searches for remains of Americans killed in the Korean War, after a six-year break in one of the enemy nations' only means of contact.
The accord suggested a slight easing of tensions as North Korea and the US prepared to hold a second round of rare direct talks in Geneva starting tomorrow on how to revive six-nation nuclear disarmament talks.
After three days of meetings in Bangkok, the Pentagon said that officials from the US and North Korea "reached an arrangement to resume recovering the remains of American servicemen missing from the Korean War."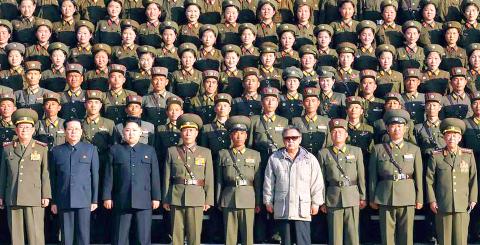 An undated picture released by North Korea's official Korean Central News Agency on Friday shows North Korean leader Kim Jong-il, front row, center, accompanied by his son Kim Jong-un, front row, left, posing with soldiers of the Korean People's Army Unit 4304 at an undisclosed location in North Korea.
Photo: AFP
US teams are due to start recovery efforts next year in an area about 100km north of Pyongyang and near the Chosin-Jangjin reservoir where more than 2,000 soldiers and Marines are believed to have gone missing during the 1950-1953 war, the Pentagon said.
The US Defense Department said that accounting for missing soldiers was "a stand-alone humanitarian matter, not tied to any other issue between the two countries."
The searches were suspended under former US defense secretary Donald Rumsfeld in 2005 amid a crisis over North Korea's nuclear program, with US officials citing concerns for the safety of Americans involved in the recovery operations.
The Pentagon said it had -concluded arrangements with North Korea that would "ensure the effectiveness and safety" of teams heading into the isolated and impoverished nation.
Pentagon officials said that the US would not pay for the remains, but acknowledged that the teams would inevitably spend money for necessities such as food, fuel and security.
A total of 7,988 Americans are missing from the Korean War, with about 5,500 of them believed to be in North Korea, according to the US Defense Department. Joint search teams recovered the probable remains of 229 servicemen in North Korea from the start of operations in 1996 until they were suspended nine years later.
The Korean War ended in a truce, not a peace treaty, and the North has had tense relations with the US ever since.
US President Barack Obama's administration has stood firm that North Korea must clearly recommit to a 2005 agreement in which it agreed to end its nuclear program and ease tensions with South Korea.
After ruling out dialogue for months, US officials met with North Korean envoys in July in New York. The administration agreed to the second round in Geneva, but said it was premature to return to full-fledged six-nation talks.
"They seem to be open to continuing the discussions, so we are pursuing those," US Secretary of State Hillary Rodham Clinton said in an interview on Thursday in Kabul with Fox News. "But I think that it's always important for us to hold the North Koreans accountable. There are certain steps we expect them to take, but if they are willing to be open to conversation with us and with the South Koreans, we will respond."
US officials have privately voiced doubts about whether the talks in Geneva would yield much progress, but have hoped that the dialogue will lower the chances of provocation by Pyongyang.
Last year, North Korea shelled a South Korean border island, killing four, and was accused of -sinking a warship, leaving 46 sailors dead.
US advocates for engagement with North Korea have long sought a resumption of remains recovery operations, seeing them as one of the few ways to foster better understanding between the two countries.
Searches "will open a direct channel of communication with the Korean People's Army, and will return US soldiers to the battlegrounds of North Korea on a solemn mission to ensure that no American is left behind," US Senator John Kerry wrote in June in the Los Angeles Times.
Comments will be moderated. Keep comments relevant to the article. Remarks containing abusive and obscene language, personal attacks of any kind or promotion will be removed and the user banned. Final decision will be at the discretion of the Taipei Times.