Crowds greet Bhutan's king and new queen
GROSS NATIONAL HAPPINESS: One academic said that he expected the 21-year-old queen to bring a new era of 'feminine leadership' to a country that banned TV until 1999
The newly married king of Bhutan and his 21-year-old bride greeted huge crowds of well-wishers on Friday during a day-long trip spent largely on foot returning to their palace in the capital.
The popular 31-year-old King Jigme Khesar Namgyel Wangchuck crowned Jetsun Pema, the commoner daughter of an airline pilot, on Thursday in a colorful Buddhist ceremony in the ancient capital of Punakha.
The staunchly royalist people of this remote Himalayan nation, which has resisted outside influences for centuries, turned out in their tens of thousands on the -second day of festivities to mark the occasion.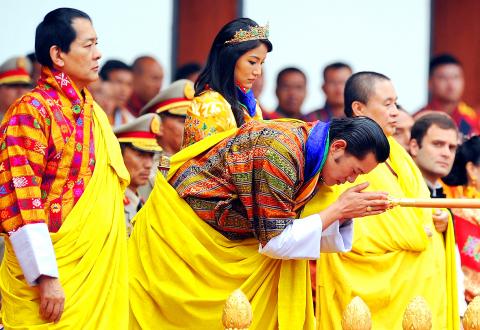 Former Bhutan king Jigme Sinagye Wangchuk, left, and Indian Member of Parliament Rahul Gandhi, right, watch as Bhutanese royal couple King Jigme Khesar Namgyel Wangchuck, second left, and Queen Jetsun Pema perform rituals during a ceremony in Thimphu, Bhutan, yesterday.
Photo: AFP
The royal couple set off in the early morning from Punakha — normally a two-and-half-hour drive from the capital along roads with stunning views over mountains dotted with monasteries — and finished at after 8pm.
The smiling monarch, holding hands with the queen throughout, joked and chatted with his subjects, many of whom bowed their heads in deference while offering white silk scarves to be blessed or other gifts.
Asked how many hands he had shaken as he neared the end of the day, Wangchuck said: "I don't know. I haven't been counting. I've just been enjoying myself."
His habit of spontaneously diving into crowds, greeting people and picking up babies is known to exasperate his security detail, but is a core part of his appeal to his 700,000 adoring subjects.
"The king thanked us that we waited so long for them and he said he was happy to be back in Thimphu," said Pramod Pradhan, an 18-year-old student who spoke to the king. "I'm going to share that with my mum right now."
When he was crowned in 2008 in Punakha, he also did much of the return journey to the capital Thimphu on foot, traveling only by car through the most unpopulated mountainous areas. The streets of Thimphu have been decorated with flashing lights and the official poster of the royal couple and the national flag adorn lampposts, building facades and roundabouts.
Amid clouds of incense and chanting monks, Pema was crowned queen at the end of a series of elaborate rituals in the 17th-century fortified monastery in Punakha that served as the headquarters of the country's ancient capital.
The "Dragon King," an Oxford graduate who came to power in 2008 at the start of democracy in Bhutan, said afterwards that he had waited to get married, but was certain that he had found "the right person."
"She is a wonderful human being," he told a small group of foreign reporters.
Bhutan banned television until 1999 and is the only nation in the world whose government pursues "Gross National Happiness" for its people instead of economic growth.
Dasho Karma Ura from the Centre for Bhutan Studies, a think tank, said the queen would bring a "new dimension of feminine leadership" to the country. The previous king had four wives, all sisters, who shunned the limelight.
"Bhutanese youth are starting to look up to her, to dress up like her and trying to be an attractive personality like her," he said in an interview.
Bhutan, which has never been colonized, remained in self-imposed isolation for centuries and is still wary of outside influence and the impact of globalization.
The country had no roads or currency until the 1960s and continues to resist mass tourism to this day.
In Nepal, ethnic Nepalese Bhutanese who left the country in the early 1990s, claiming ethnic and political persecution also congratulated the king, while urging him to find a solution that would allow them to return home.
Comments will be moderated. Keep comments relevant to the article. Remarks containing abusive and obscene language, personal attacks of any kind or promotion will be removed and the user banned. Final decision will be at the discretion of the Taipei Times.