Step down, US urges Syrian president
ESCALATION: The US, backed by Russia and France, has condemned the Syrian regime for 'escalating its tactics' by attacking opposition activists and civilians
A top Kurdish activist and 16 other people were killed on Friday as thousands rallied in support of a new opposition front, activists said, and as Washington called on Syrian President Bashar al-Assad to "step down now."
The latest violence came as Russian President Dmitry Medvedev said Assad will have to leave power if he fails to implement reforms acceptable to the opposition, and Damascus again blamed "terrorists" for the unrest.
Kurdish activist and opposition spokesman Meshaal Tamo, 53, was killed when four masked gunmen stormed his house in Qamishli in the north and opened fire, also wounding his son and another fellow activist in the Kurdish Future Party, activists said.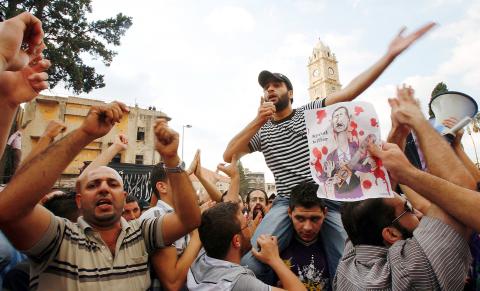 Protesters chant slogans against Syrian President Bashar al-Assad during a protest yesterday in solidarity with Syria's anti-government protesters, in the port city of Tripoli in north Lebanon.
Photo: Reuters
Assad's regime is escalating its tactics against the opposition with bold, daylight attacks on its leaders, the US State Department charged.
"This is a clear escalation of regime tactics," State Department spokeswoman Victoria Nuland told reporters, referring to reports of Tamo's murder, as well as the beating on Friday of former MP Riad Seif. Nuland said both opposition leaders were attacked in broad daylight.
In a statement, White House spokesman Jay Carney condemned the attacks, saying they showed "again that the Assad regime's promises for dialogue and reform are hollow."
"The United States strongly rejects violence directed against peaceful oppositionists wherever it occurs, and stands in solidarity with the courageous people of Syria who deserve their universal rights," Carney said.
"Today's [Friday's] attacks demonstrate the Syrian regime's latest attempts to shut down peaceful opposition inside Syria. President Assad must step down now before taking his country further down this very dangerous path," he said.
France also condemned the Syrian regime's "brutal violence" in its crackdown on the opposition and said it was "shocked" by Tamo's murder.
A French Foreign Ministry statement said the violence "shows that the regime of Bashar al-Assad remains deaf to the appeals of the international community."
The official SANA news agency reported Tamo's "assassination," but gave a different account of his death, saying he was killed "by gunmen in a black car who fired at his car."
Tamo, a member of the newly formed Syrian National Council (SNC) opposition grouping, had been released recently after three and a half years in prison.
SNC spokeswoman Basma Kodmani said the regime had "crossed a new stage in the strategy of repression. All opposition leaders must protect themselves."
Elsewhere, 11 civilians were shot dead in the central city of Homs by security forces, three in Douma and one in Zabadani northwest of Damascus, the Syrian Observatory for Human Rights said.
Another man died after being shot by security forces in the flashpoint northern town of Jisr al-Shughur near the Turkish border, the Local Coordination Committees activist network reported.
Meanwhile, ex-MP Seif had to be given hospital treatment after being beaten outside a mosque in the capital's commercial neighborhood of Medan.
Mosques in Syria again became springboards for Friday's anti-regime protests, also this time in support of the SNC, formed to represent the main opposition groups.
Demonstrators in the restive Damascus district of Barzeh carried slogans affirming their "complete support" for the SNC, according to videos on YouTube, while protesters in Homs chanted "the people want the fall of the president."
Comments will be moderated. Keep comments relevant to the article. Remarks containing abusive and obscene language, personal attacks of any kind or promotion will be removed and the user banned. Final decision will be at the discretion of the Taipei Times.