Body of the Australian outlaw Ned Kelly found
The headless remains of the infamous Australian outlaw Ned Kelly have finally been identified, officials said yesterday, solving a mystery dating back more than 130 years.
Considered by some to be a cold-blooded killer, Kelly was also seen as a folk hero and symbol of Irish-Australian defiance against the British authorities.
After murdering three policemen, he was captured in Victoria state in 1880 and hanged at Old Melbourne Gaol in November of the same year. However, his body went missing after it was thrown into a mass grave.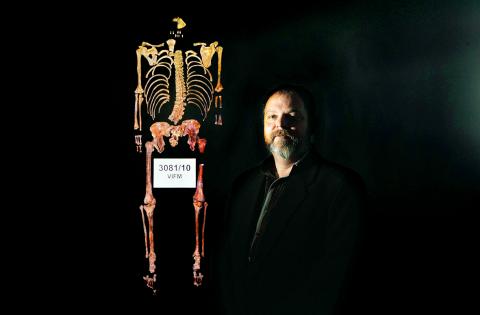 Leigh Olver, Ned Kelly's great-grandnephew, poses for a photo in front of the recently discovered remains of Ned Kelly at the Victorian Institute of Forensic Medicine in Melbourne, Australia, yesterday.
PHOTO: EPA
The bodies in the grave were transferred from the jail to Pentridge Prison in 1929 and then exhumed again in 2009. The investigation into Kelly began when a skull believed to be his — and stolen in 1978 — was rediscovered.
Doctors and scientists at the Victorian Institute of Forensic Medicine identified his body, found in a wooden axe box, after a DNA sample was taken from Melbourne teacher Leigh Olver, Kelly's sister Ellen's great-grandson.
"The wear and tear of the skeleton is a little bit more than would be expected for a 25-year-old today," institute director Stephen Cordner said. "But such was Ned's life, this is hardly surprising."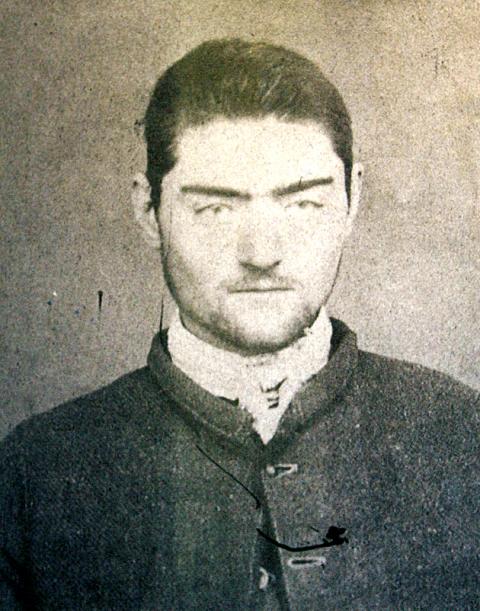 An undated police mugshot, released on March 13, 2008, shows Ned Kelly, aged 16, in Melbourne, Australia.
PHOTO: REUTERS
However, tests found that the skull believed to be Kelly's was not his.
Believed to have been born in 1854 or 1855, Kelly became an outlaw two years before he was hanged, taking on corrupt police and greedy land barons. He survived a shootout with police in 1878 that saw him, his brother Dan, and friends Joe Byrne and Steve Hart slapped with an £8,000 (US$12,985) bounty — the largest reward ever offered in the British Empire.
Over the next 18 months, the Kelly Gang held up country towns and robbed their banks, becoming folk heroes to the masses.
In a final gunbattle at Glenrowan, three of the gang members died and Kelly, dressed in home-made plate metal armor and helmet, was wounded and arrested.
Comments will be moderated. Keep comments relevant to the article. Remarks containing abusive and obscene language, personal attacks of any kind or promotion will be removed and the user banned. Final decision will be at the discretion of the Taipei Times.