Norway massacre victims return to the crime scene
CLOSURE: A month of mourning for Norwegians ended yesterday and officials hoped that the visit would help the survivors of the shooting come to grips with the tragedy
Survivors of a massacre which claimed the lives of 69 people in Norway last month have carried flowers to the site of the killings, laughter blending with tears as they remembered the joys of an island youth camp that turned into a scene of horror.
Stine Renate Haaheim, who survived the shooting spree on Utoeya island, said on Saturday that her feelings ranged from emptiness and extreme grief to joy when she returned to the place she had visited each summer for more than 10 years before the July 22 massacre.
"There was an extreme mix of feelings because it was very difficult and we are still in grief, but at the same time I was looking forward to seeing Utoeya. I was hoping that in some kind of way it will still be the same island as it used to be," the 27-year-old lawmaker said after returning from Utoeya. "For me it was really important, I wanted to go back as soon as possible."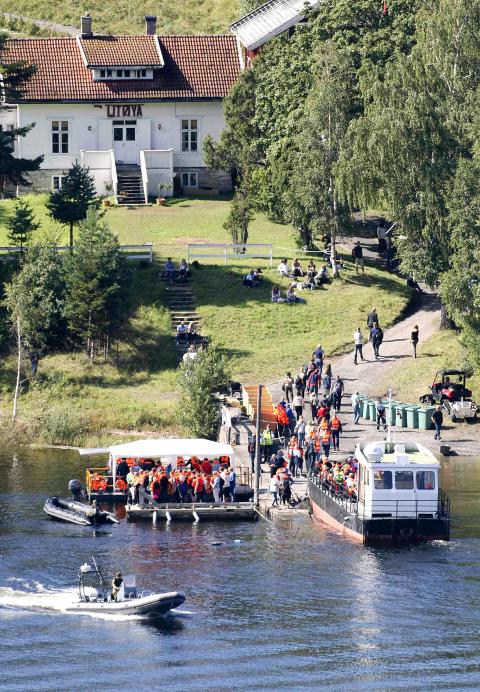 Survivors of the Utoeya shooting massacre board boats after they visited the island on Saturday.
Photo: Reuters
The hardest part, she said, was seeing where her friends died.
"We started going around to all the places where our friends were killed and just taking a minute of silence and trying to remember all the good times we had with them and that was extremely hard, I think it's not possible to explain the feelings," Haaheim said, fighting back tears.
Many who returned to the island lit candles and laid handwritten notes in memory of their friends at the sites where they were shot during the summer camp organized by the youth wing of Norway's Labor Party. They also gathered to sing, just like they used to do on Utoeya.
Eskil Pedersen, the leader of the party's youth organization, said his visit to the island with Norwegian Prime Minister Jens Stoltenberg and several hundred youth politicians had been "heavy, but fine."
"It was incredibly good to see them [the survivors] smiling again on Utoeya," Pedersen told reporters.
Up to 1,000 survivors and relatives traveled to Utoeya on Saturday, accompanied by police and medical staff, to face the painful memories of the shooting spree by a right-wing extremist. Their visit followed a similar arrangement on Friday, when about 500 relatives of the deceased came to see the sites where they lost their loved ones.
Stoltenberg — the leader of the Norwegian Labor Party — said he had wanted to visit "to take part in their mourning and be there for them."
Anders Behring Breivik has admitted killing 77 people on July 22 when he first detonated a truck bomb outside government offices in the capital, Oslo, and then went on a meticulously planned shooting spree on the island, about 40km away.
The right-wing extremist denies criminal guilt because he believes the massacre was necessary to save Norway and to punish politicians that have embraced multiculturalism.
Media were not allowed access to the heavily guarded island where Breivik spent 90 minutes executing the 69 people. Many of the victims were shot in the water as they tried to escape by swimming.
Norwegian General Director of Health Bjoern Inge Larsen said he hoped the visits would help survivors and families of the victims come to grips with the deaths.
"The people going there today ... have a lot of anxiety," Larsen said. "They were life-threatened on this island four weeks ago in a very traumatizing manner, so what we are prepared for is to help them to overcome that anxiety."
The operation included 400 health care workers, psychiatrists, police and other officials on the site to help the survivors.
Yesterday, a national memorial service was to be held at Oslo Spektrum arena and broadcast live on national TV to mark the end of a month of mourning in the country.
Comments will be moderated. Keep comments relevant to the article. Remarks containing abusive and obscene language, personal attacks of any kind or promotion will be removed and the user banned. Final decision will be at the discretion of the Taipei Times.