India, Pakistan hail a 'new era' of ties
PROGRESS SOUGHT: The foreign ministers agreed to work more closely on fighting militancy and to implement confidence-building measures, including in Kashmir
Indian and Pakistani foreign ministers hailed a new era in ties between the nuclear-armed rivals yesterday and agreed to fight militancy and boost trade and travel, a step forward in reducing tension in the world's most dangerous region.
The comments from Indian External Affairs Minister S.M. Krishna and his Pakistani counterpart, Hina Rabbani Khar, were unexpectedly positive and may be a small step toward improving regional stability, made more urgent with a US troop drawdown in Afghanistan looming.
"This is indeed a new era of bilateral cooperation between the two countries," Khar, Pakistan's first female and youngest-ever foreign minister, told the media after two-and-a-half hours of talks, standing next to Krishna.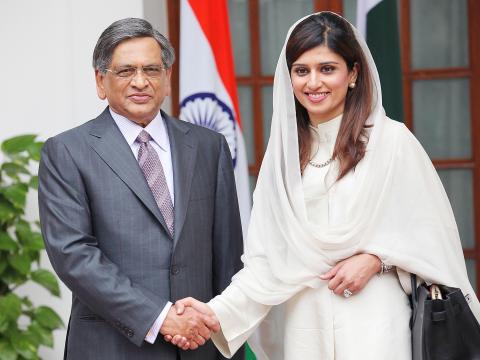 Indian External Affairs Minister S.M. Krishna, left, and Pakistani Foreign Minister Hina Rabbani Khar shake hands yesterday prior to a meeting in New Delhi, India.
Photo: EPA
"[It] is our desire, and I believe after having spoken to you, Mr Foreign Minister, that it is the desire of both the governments, to make it an uninterrupted and an uninterruptable process," she said.
Expectations of a breakthrough in peace talks have been low, but the fact the South Asian rivals are talking was a sign that neither side wants to slide back toward conflict. The countries have fought three full-scale wars since winning independence in 1947.
India and Pakistan in February resumed a formal peace process broken off after the 2008 attack on Mumbai by Pakistan-based militants, which killed 166 people.
"We have some distance to travel, but with an open mind and consistent approach, which has been demonstrated in this round of dialogue, I am sure we can reach our desired destination of having a friendly and cooperative relation between our two countries," Krishna said.
Importantly, they agreed to work more closely to fight militancy and to bring to justice perpetrators of militant attacks.
"We have agreed that terrorism poses a continued threat to peace and security and reiterate the firm and undiluted commitment of our two countries to fight and eliminate this scourge in all forms," Krishna said. "We have also agreed the need to strengthen cooperation in counter-terrorism to bring those responsible for terror crimes to justice."
The US has also stepped up efforts to bridge the divide between the neighbors. US Secretary of State Hillary Rodham Clinton visited New Delhi last week and urged them to work on ties as well as stabilizing the volatile region.
Krishna said the two countries had agreed to implement a series of confidence-building measures, such as relaxing some of the trade and travel restrictions across the UN-drawn Line of Control dividing Kashmir.
These include increasing the number of cross-border trading days from two to four, and expediting travel permits, including for tourism and religious pilgrimage.
Peace across the heavily militarized frontier is crucial for the US to draw-down troops and stabilize Afghanistan without sparking off a proxy war between New Delhi and Islamabad in that country.
The two countries also agreed to continue talking on Kashmir, an issue that Pakistan is keen to move forward on.
"We will continue discussions [on Kashmir] with a view to find a peaceful solution by narrowing divergences and building convergences," Krishna said.
Additional reporting by AP
Comments will be moderated. Keep comments relevant to the article. Remarks containing abusive and obscene language, personal attacks of any kind or promotion will be removed and the user banned. Final decision will be at the discretion of the Taipei Times.