China's power woes worsen as rivers run dry due to drought
Much of central China is enduring its worst energy crisis in years, with factories and residents facing power cuts as supply runs short of demand — a problem worsening as drought dries rivers, reducing hydroelectric capacity.
Authorities are warning that manufacturers in booming industrial regions west of Shanghai may face even tighter power rationing as demand surges in the peak summer months as electricity generators curb output because of rising costs for coal and oil.
Though summer rains may eventually relieve the drought, with even the powerful Yangtze River running too low for shipping in some stretches, China appears to be hitting limits to its growth in a resource scarce-environment. The power crunch comes at a time when worries over inflation make rising energy costs and crop failures less welcome than ever.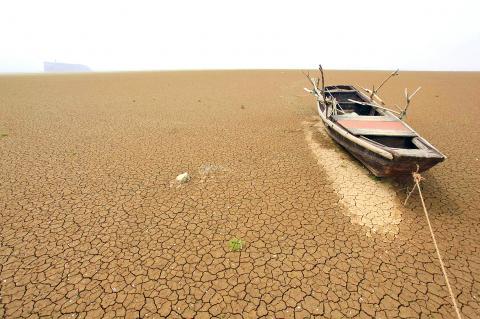 A boat lies stranded on the cracked bed of a dried area of Xieshan, which is part of Poyang Lake in China's Jiangxi Province on May 4. Officials said an extended low-flow period might pose a threat to navigation in parts of the Yangtze River.
Photo: Reuters
The industry group China Electricity Council has estimated a power shortfall of 30 million kilowatts in the summer. That is only 3 percent of China's generating capacity, but the shortages are concentrated in key manufacturing regions such as Zhejiang and Jiangsu, near Shanghai.
According to industry reports, petrochemical and plastics manufacturers and smaller factories are among those most affected.
Fast-growing China has long experienced periodic power shortages, especially in winter and summer when weather extremes boost demand for heating and cooling. However, the problems this year stem mainly from a failure of government-controlled electricity rates to keep pace with the costs paid by utilities for the coal that fuels about three-quarters of the country's electricity generation.
Power companies are reluctant to invest in new projects, while many older, heavily polluting thermal plants are being closed down to help meet environmental targets.
The amount of new installed capacity is due to drop 10 million kilowatts next year from this year, while demand continues to climb at double-digit rates, Hu Zhaoguang (胡兆光), vice president of State Grid Energy Research Institute, said in comments posted on the Energy Research Observation Net.
The regional power distributor East China Grid Co estimates that power shortages could reach 19 million kilowatts this summer in Shanghai and four other nearby provinces, the newspaper China Daily reported yesterday.
The worst will be a shortfall of more than 11 million kilowatts, or 16 percent of total demand, in Jiangsu Province, upriver from Shanghai along the Yangtze, where drought has sapped water levels to their lowest ever at some points, stalling shipping.
Comments will be moderated. Keep comments relevant to the article. Remarks containing abusive and obscene language, personal attacks of any kind or promotion will be removed and the user banned. Final decision will be at the discretion of the Taipei Times.