AQIM deny role in Morocco blast
Hundreds gathered to denounce terrorism at the site of a deadly bomb attack in Marrakesh on Saturday as al-Qaeda's regional offshoot denied any involvement in the atrocity.
Moroccans joined with foreigners based in the city and tourists outside the cafe in Djemaa El Fna Square where the April 28 blast killed 17 people, including eight French nationals.
Moroccan officials have said that al-Qaeda in the Islamic Maghreb (AQIM) could have been behind the blast at the Argana cafe in the southern city, a popular site with tourists.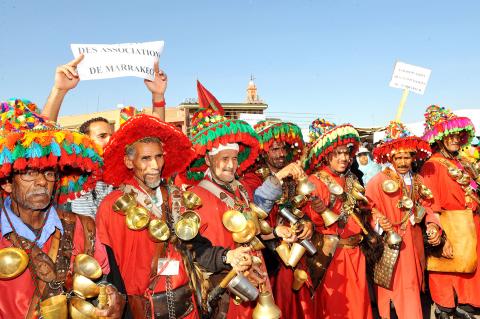 Water sellers from Djamaa El Fna Des Square protest against terrorism on Saturday in front of Cafe Argana in Marrakesh, Morocco, the site of a bombing last month that killed 17 people, most of whom were foreign.
Photo: AFP
However, the group on Saturday denied involvement in a statement put out by a Mauritanian news agency.
Police in Morocco arrested three people on Thursday for the attack and said the chief suspect was "loyal" to al-Qaeda. A Swiss woman died of her injuries on Friday, Swiss authorities said, bringing the total killed in the attack to 17.
AQIM said it was not behind the killings, but urged Moroccan Muslims "to liberate their oppressed, jailed brothers and to topple the criminal regime," in a presumed reference to Moroccan King Mohammed VI and his government.
"We deny involvement in the bombing and assure that we have nothing to do with it, neither up close nor from afar," said a statement carried by the Nouakchott Info Agency in Mauritania.
"Although hitting Jews and Crusaders and targeting their interests are among our priorities, which we urge Muslims to act upon and which we seek to carry out, we choose the right moment and place," the statement said.
AQIM is a pan-Maghreb jihadist organization that has taken responsibility for a number of attacks, particularly in Algeria. It has sent fighters to Iraq and vowed to attack Western targets, according to the US Council on Foreign Relations Web site.
The group, which previously called itself the Salafist Group for Preaching and Combat, says it is the local franchise of al-Qaeda.
Moroccan authorities said the chief suspect disguised himself as a guitar-carrying hippie when he planted two bombs in a popular tourist cafe.
The bombs took six months to construct and were detonated by remote control using a cellphone, authorities said.
Organizers of Saturday's gathering dubbed the event "an orange juice against terrorism" in -reference to reports that the bomber ordered the drink before detonating his explosives.
Among those attending was the Moroccan minister for tourism. The French consul general in Marrakesh was also present. The city is home to around 20,000 French people.
"To be in front of the Argana is moving and sad. I'm here to say no to terrorism," a Swiss tourist from Zurich said.
A group known as the February 20 Movement, which is calling for political reform in Morocco, was planning to hol a peaceful demonstration at the square yesterday.
"Sunday's demonstration is a message to the Moroccan authorities: We demand democracy because it's the most efficient means of combating terrorism," said Mahjoub Bisnas, a member of the movement.
Comments will be moderated. Keep comments relevant to the article. Remarks containing abusive and obscene language, personal attacks of any kind or promotion will be removed and the user banned. Final decision will be at the discretion of the Taipei Times.