FEATURE: The vanishing history of Bollywood films
Tears rolled down the face of 79-year-old Ismail Mohammad Gauri as he recalled the glory days of Bombay Talkies, once one of Bollywood's greatest studios, but which has now faded into cinema history.
He remembered the big cars that parked outside the house where he grew up, the mango trees in the studio compound where he and his friends used to play and how they were awestruck by the actors who ate in the local restaurant.
"It all sounds like those days never existed when I look at this place now," he said, gesturing towards the crumbling ruin of rubble and rubbish opposite his home in the Mumbai suburb of Malad.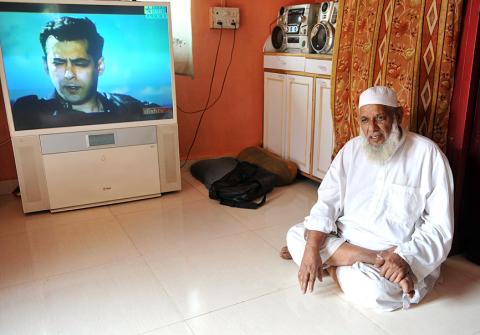 Ismail Mohammad Gauri sits beside a television featuring an image of Indian Bollywood actor Salman Khan as he is interviewed at his residence in Mumbai, India, on March 3.
Photo: AFP
"I just can't believe that it has turned into dust," he said. "With my death nobody in this area will be able to recall those glorious days."
In two years' time, it will be 100 years since the first Indian feature film was made, giving birth to an industry that is now worth US$1.85 billion a year.
Raja Harishchandra — a silent film about a king in Hindu mythology — was released in 1913. A film about its making, Harishchandrachi Factory, was India's official entry for the Best Foreign Language Film Oscar last year.
However, while the maker of Raja Harishchandra has been revered, many like Gauri are disappointed that Bombay Talkies and other landmark sites are largely forgotten despite their role in the industry's development.
"The old things that do not generate wealth are junked into the warehouse by us," producer--director Mahesh Bhatt told the Times of India newspaper recently.
"As we journey towards the centenary year of Indian cinema, we need to confront the blunt fact that neither the state nor the film industry gives a damn about our cinematic heritage," he said.
The Bombay Talkies Limited was the first corporate Hindi-language film studio and helped launch the careers of legendary actors like Dilip Kumar, Ashok Kumar, Dev Anand, Raj Kapoor and Devika Rani.
Film score singers Lata Mangeshkar and Kishore Kumar were also regulars.
Set up in 1934, it employed about 5,000 people at its height and was considered to be Asia's largest film production studio in the 1940s using state-of-the-art techniques.
The studio's decline began after the death of joint founder Devika Rani's husband, Himanshu Rai and worsened as a result of differences with her business partners. The studio started running up losses and was sold.
Since its closure in 1954, it has become home to carpenters and mechanics or used as a dumping ground and an open-air urinal.
Three fires in recent years gutted many of the businesses and nothing now remains of the studio except one dilapidated set from the 1949 film Mahal (The Palace), which was Bollywood's first horror film.
Nowadays, Malad is more known for its gleaming call centers and upmarket shopping malls than its once-famous film studio.
"Nobody comes here from the film world and nobody knows that this structure even exists," said Kamlesh Pandey, one of the factory workers working in the former studio compound.
"This place is the forgotten past of the film industry and we don't think too much about it as we are more busy with our daily chores," he said.
Many of India's historic buildings are crumbling through neglect, lack of funding for repairs or pressure for space in the country's overcrowded cities.
They include the old Watson's Hotel, once Mumbai's most exclusive hotel, where France's Lumiere Brothers first showed their newfangled invention of cinematography in India in 1896, kick-starting a nation's obsession with film.
Years of neglect have resulted in the building — thought to be the world's oldest inhabited cast-iron structure — being placed on the local authority's "most -dilapidated" list.
Fears have also been raised about the future of Filmistan Studio, another vintage Bollywood studio, amid reports that it could be sold off for redevelopment.
Film historian Amrit Gangar is hopeful that the authorities in India's entertainment capital will recognize the place that Bombay Talkies has in the history of Bollywood.
"I have written to Heritage Committee members that they need to do something," he said. "It stinks and I feel ashamed to see such an important historical place reduced to a dustbin. The government has to take action."
Comments will be moderated. Keep comments relevant to the article. Remarks containing abusive and obscene language, personal attacks of any kind or promotion will be removed and the user banned. Final decision will be at the discretion of the Taipei Times.