US tries to demystify bin Laden
CONTRADICTIONS: While the videos released by the US show Osama bin Laden watching himself on TV, officials say he was very much in control of al-Qaeda
The US sought to puncture the mystique surrounding deceased al-Qaeda leader Osama bin Laden on Saturday, releasing seized videos that show him watching himself on television, looking old, ordinary and vain.
In the most extraordinary footage among five videos made public, the late al-Qaeda chief sits wrapped in a brown blanket and winter hat, gazing at television news footage of himself as he holds a remote control in his right hand.
His beard has gone gray and he looks older than his years. He sits in a spare-looking room, stroking his beard and rocking back and forth as he watches the TV screen.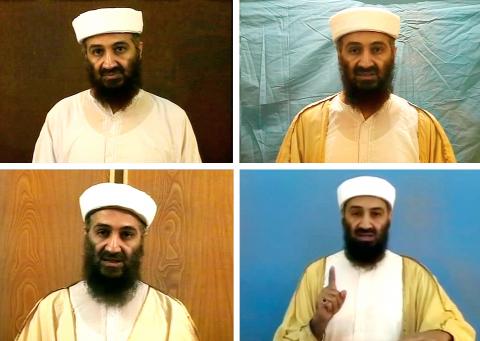 A combination of images shows Osama bin Laden in video images released by the US Department of Defense on Saturday. Five videos were found in bin Laden's compound in Abbottabad, Pakistan after US Navy Seals stormed the compound and killed bin Laden on May 2.
Photo: Reuters/US Department of Defense
Al-Qaeda tried to promote the image of a fearless and powerful holy warrior, but bin Laden appears in the "home video" as an ordinary and solitary figure, reduced to watching news clips of himself.
"I think it's pretty clear what they're trying to do is demystify this icon who has terrorized the world for the past 10 years, to show for a fact he was not 10 feet tall," said Mark Kimmitt, a retired US Army brigadier general.
The video left an impression that "he seems to be a tired, old man," Kimmitt told CNN television.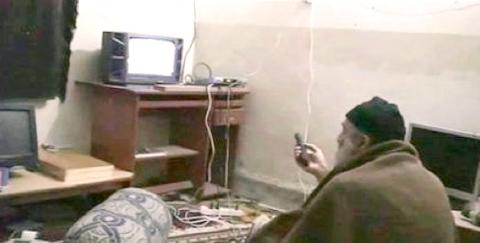 In this frame grab from a video released by the US Department of Defense on Saturday, Osama bin Laden is shown watching himself on television.
Photo: EPA/US Department of Defense
As the footage of bin Laden was shown to reporters at a Pentagon briefing, there was an audible gasp in the room.
The video lifted a veil for the first time on an elusive and almost mythical figure, who had managed to escape the reach of a superpower for more than a decade.
"It's fascinating to see him kind of looking at himself," said Peter Bergen, who has written books about the al-Qaeda mastermind.
The US government released the videos — without audio — a week after a daring raid in which a team of US Navy commandos shot and killed bin Laden after swooping on his compound in the Pakistani city of Abbottabad.
US President Barack Obama has chosen not to make public photos of bin Laden's corpse, saying the US should not brandish trophies or risk inciting the Muslim world.
However, the five videos selected for release, out of a trove of computer files, DVDs, flash drives and other material seized from bin Laden's residence, served to undermine the public picture of the al-Qaeda leader.
"This is not a flattering image," said Bergen, who recalled how bin Laden and his aides strictly controlled how he was filmed for a TV interview before Sept. 11, 2001.
Apart from the footage of him watching himself, there is a more familiar scene in another video with bin Laden — dressed in a gold robe and white turban — reading from a text, a speech likely recorded last year and never released.
US officials said the video is a self-styled message to the US, criticizing the US and "denigrating capitalism."
Unlike the video of him watching television news pictures of himself, bin Laden — who was 54 when he was killed — has a black, trimmed beard.
Then there are three other videos in which bin Laden appears to be rehearsing the speech, including one with a wrinkled blue sheet behind him. The rehearsal videos include apparent problems with lighting and what officials said was a missed cue.
Intelligence agencies were not sure when the video of bin Laden watching television was recorded, but Obama appears on the screen at one point in news footage, suggesting it may date to sometime after January 2009 when Obama took office.
The senior intelligence official who presented the videos described the videos as an example of how bin Laden worked to shape his image.
Other material taken from the compound showed the al-Qaeda founder was deeply involved in operational and tactical planning and not a mere "figurehead," the official said.
Some analysts and former officials said the Obama administration's message appeared contradictory, as releasing the videos served to trivialize bin Laden even as officials portrayed him as a hands-on terror commander.
"The problem is, at the same time they're trying to demystify him, they're also saying he's in far more operational control than we had ever thought. So there's a contradiction in this message," said Kimmitt, who also served in the US Department of State under former US president George W. Bush.
"The administration needs to be careful," he said.
Comments will be moderated. Keep comments relevant to the article. Remarks containing abusive and obscene language, personal attacks of any kind or promotion will be removed and the user banned. Final decision will be at the discretion of the Taipei Times.