Protesters arrested in Damascus
Security forces in Syria on Wednesday arrested more than 25 protesters in the capital, Damascus, on a second day of rare protests that are banned under emergency laws in place since 1963.
Despite the ban, about 200 people took to the streets of Old Damascus on Tuesday, calling for liberty and political freedoms, and on Wednesday dozens of relatives of political prisoners demonstrated to demand their release.
"Free the prisoners," the protesters chanted in Marjeh Square near the interior ministry in central Damascus as several human rights activists joined them, witnesses said.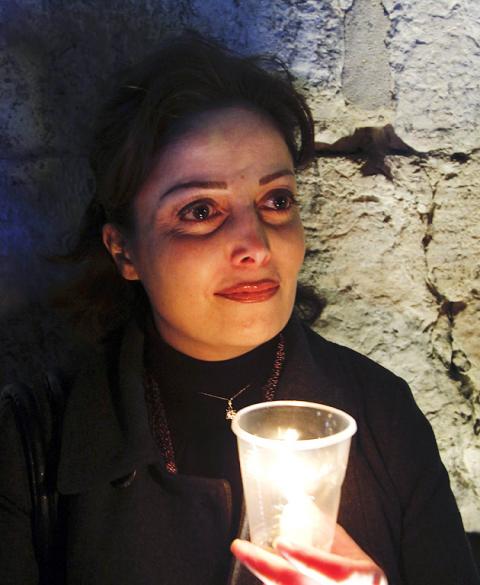 Leading Syrian political activist Suhair Attasi holds a candle to show support for the protesters in Egypt in Damascus on Jan. 31.
Photo: Reuters
Large numbers of police and security agents in civilian clothes ringed the protesters, and four young demonstrators were arrested and whisked away by car, the sources said.
Amnesty International said plain-clothed security agents beat up some protesters and arrested at least 30 people, including a man snatched from hospital where he was "being treated for a serious head wound."
"At the protest today, children, the elderly and women were among those beaten," Amnesty said, quoting witnesses. "Demonstrators who tried to flee the assault were reportedly chased down and arrested."
Washington called on Damascus to exercise restraint.
"We call on the Syrian government to live up to its obligations under the universal declaration on human rights," US Department of State spokesman Mark Toner said.
The Syrian Observatory for Human Rights (SOHR) said "more than 25 people" were arrested, including Kurdish blogger Kamal Hussein Sheikho, who was released from prison on Sunday, although he is still on trial for allegedly publishing material harmful to the country.
Author Tayeb Tizini, rights activists Mazen Darweesh, Nahed Badawiya and Suhair Atassi were also detained, along with five relatives of prominent opposition figure Kamal Labwani, who is serving a 12-year jail term, including his son Omar, the SOHR said.
On Tuesday, Atassi hailed "the Syrian people who took the initiative ahead of the opposition," recalling the popular uprisings that shook Tunisia and Egypt.
"It's the first time a demonstration calling for freedom has taken place in Syria," she told al-Jazeera TV.
Philip Luther, Amnesty's deputy director for the Middle East and North Africa, described the protests on Tuesday and Wednesday as "real acts of bravery in a country known for its intolerance of dissent."
"The Syrian authorities must immediately release all those arrested in the last two days for merely attending peaceful protests, and stop these attacks on freedom of expression and assembly," Luther said.
A Facebook page titled "The Syrian revolution against Bashar al-Assad 2011," which has amassed about 42,000 fans, had been promoting demonstrations "in all Syrian cities" on Tuesday.
Dozens of Syrians marched in the landmark al-Hamidiyeh souk and nearby Hariqa souk of Old Damascus, chanting: "God, Syria, liberty" and "Syrians, where are you?"
The families of 21 jailed human rights activists announced in an online statement on Saturday their plans to lobby Syrian Interior Minister Saeed Sammur for the release of their relatives.
"We have decided to give the interior minister next Wednesday at noon a letter outlining our complaints and suffering," they said a statement posted on the SOHR Web site.
The detainees, some of whom have spent several years behind bars, include human rights lawyers Anwar Bunni and Muhannad al-Hassani, as well as engineers, doctors and writers.
The protesters were unable to deliver the letter, said the head of the Syrian League for the Defense of Human Rights, Abdel Karim Rihawi. Officials told them they must first submit a request to see the minister, he added.
Comments will be moderated. Keep comments relevant to the article. Remarks containing abusive and obscene language, personal attacks of any kind or promotion will be removed and the user banned. Final decision will be at the discretion of the Taipei Times.