New Zealand ends search for survivors
RECONSTRUCTION: Christchurch's mayor said the central business district would be closed for months, while a top official said that rebuilding could take a decade or more
Rescuers officially gave up hope of finding more survivors of New Zealand's devastating earthquake, saying yesterday that no one trapped in rubble when the disaster struck nine days earlier could still be alive.
The news was a blow to the families of around 200 people listed as missing, many of whom clung to faltering hopes for good news despite more than a week of silence from beneath the piles of debris that still litter the city of Christchurch.
"We now face the reality that there is no chance that anyone could have survived this long," Civil Defense Emergency Management national controller John Hamilton told a news conference.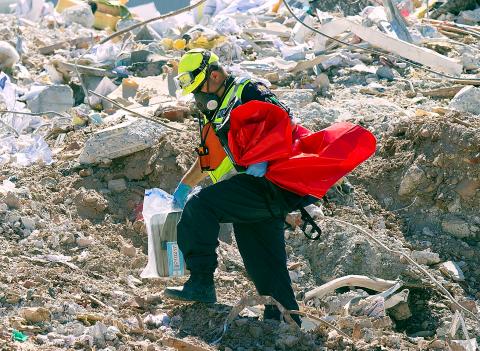 A member of the police disaster victim identification team prepares to move a body found in the rubble of the PGC building in earthquake-ravaged Christchurch, New Zealand, yesterday. Mayor Bob Parker yesterday said Christchurch's central business district would remain off-limits for months.
Photo: AFP
"Sadly, there becomes a point where the response effort shifts in focus from rescue to body recovery," he said. "We have now reached that point."
More than 900 workers trained in disaster rescue and recovery rushed to Christchurch from several countries after the Feb. 22 quake, and have been gingerly picking through the wreckage.
Jim Stuart-Black, the fire service chief who heads the work force, said his teams would start using more heavy machinery the clear the debris, though they would continue to work carefully "to allow for that miracle."
Ethel Uy, whose niece Rhea Mae Sumalpong is among 11 Filipinos missing in the quake, said if she had been killed then the family wants her body returned to them so they can hold a funeral.
"We've prayed for a miracle from God, it's all up to God," Uy said by telephone from Cebu, speaking of yesterday's decision. "If that's Rhea's fate, our wish is for all of her remains to be brought back to us. We want to give her a proper burial."
New Zealand Prime Minister John Key announced a national memorial service would be held in Christchurch, with the date to be set later.
"Today is a day when we as a nation, along with our many friends around the world, mark with a heavy heart and great sadness this moment of unbearable loss for the many families involved," he said.
Rescuers pulled 70 people from the rubble in the first 26 hours after the quake struck just before 1pm on Feb. 22, but no one has been found alive since.
Officials say many of the missing are among 161 bodies that have been pulled from the rubble so far. Only 13 of those bodies have been publicly identified because the extent of injuries suffered by many victims has made the process slow and painstaking, requiring DNA testing or dental records, officials say.
Meanwhile, officials said Christchurch's recovery would take at least a decade.
New Zealand's acting Economic Development Minister David Carter said it would take "more than 10 years" to rebuild the city, the main gateway to the country's South Island.
He said work would get under way quickly but "it's a big project."
Christchurch Mayor Bob Parker said the central business district (CBD) would remain closed for months.
About 22,000 households remain without electricity across the city.
"You can see with the level of damage that we have in the CBD that it is going to be some months before it is going to be reopened," he told a media briefing.
"However, in terms of putting a timeline on what that is, we just don't have information at this stage," he said.
Nevertheless, Parker said the city was determined to host Rugby World Cup matches this year as scheduled. Christchurch is to host five pool games and two quarter-finals in the Cup, which begins on Sept. 9.
"Utterly, absolutely, totally committed to that," he said, although the city's rugby venue, AMI Stadium, will remain closed until at least March 15 while operators check the extent of damage there.
There is also a question mark over several inner-city hotels that are awaiting assessment by structural engineers.
Comments will be moderated. Keep comments relevant to the article. Remarks containing abusive and obscene language, personal attacks of any kind or promotion will be removed and the user banned. Final decision will be at the discretion of the Taipei Times.