UNREST IN NORTH AFRICA: ANALYSIS: Mubarak's time at top may be running out
UNCERTAIN FUTURE: The US might welcome a more democratic Egypt, but the transition from Mubarak to an unknown future is weighted with anxiety for Washington
Authorities have battled to save Egyptian President Hosni Mubarak's regime with a series of concessions and promises to protesters, but realities on the streets of Cairo may be outrunning his capacity for change.
Under increasingly strong US pressure to make "an orderly transition" to democracy and opposition calls for 1 million people to flood the streets of Egypt's cities yesterday, Mubarak's newly appointed and first-ever vice president said he had been ordered to engage with "political forces" for constitutional and legislative reforms.
Mubarak's military — the bulwark of Egyptian society — joined in, promising not to open fire on demonstrators and accepting "the legitimacy of the people's demands."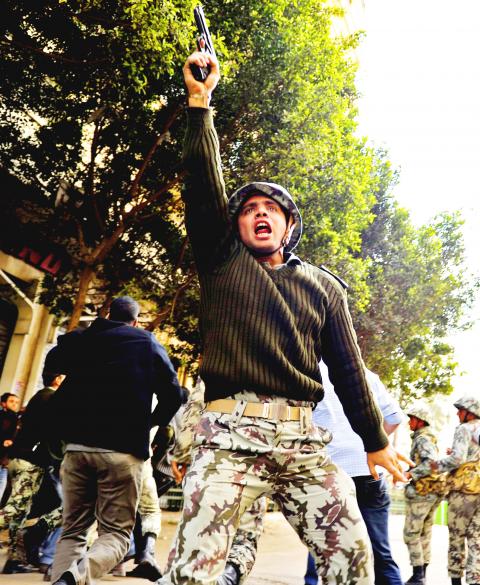 A soldier fires his gun into the air to disperse protesters from Tahrir Square in central Cairo on Monday.
Photo: EPA
Those concessions, stunning in the context of Mubarak's iron-fisted 30-year tenure, suggest he knows his time at the top may be growing short.
Mubarak has ruled Egypt, after succeeding the assassinated Anwar Sadat, from an impregnable political fortress, banning virtually all opposition, while relying on the ready and quick brutality of his interior ministry and its police.
Yet, as much as the US may applaud the appearance of a more democratic Egypt, the transition from Mubarak to an unknown future in the volatile Middle East is weighted with anxiety for the US and Israel. Many fear an opening to a far more fertile landscape for radical Islam.
Mubarak's departure would have a dramatic effect throughout the region. The former fighter pilot's once-unchallenged hold had put him at the pinnacle of power as the leader of the most populous Arab country, the critical crossroads between the Middle East and North Africa.
Under Mubarak, Egypt has been a steadfast US ally and a point of stability in an explosive region.
Even so, the momentum toward upheaval in the way Egypt is governed appeared to grow on Monday when the US Department of State said retired senior diplomat Frank Wisner was in Cairo and would meet Egyptian officials to urge them to embrace broad economic and political changes, leading toward free and fair elections.
The unprecedented week of unrest that began as a decentralized eruption of anger largely by grassroots activists appeared to be coalescing under a unified political leadership. About 30 representatives from various opposition groups met on Monday to work out a joint stance and issue the call for an escalation of protests yesterday.
A further meeting was set to decide on making prominent reform advocate Mohamed ElBaradei the movement spokesman. ElBaradei is a Nobel Peace laureate and former chief of the International Atomic Energy Agency, the UN's nuclear watchdog. He was frequently at odds with former US president George W. Bush's administration over Saddam Hussein's nuclear weapons ambitions in the lead-up to the 2003 US invasion of Iraq, but unity, if it occurs, may be short-lived among the various protesters, who have little in common beyond the demand that Mubarak leave power.
There could be deep divisions between young secular activists and the Muslim Brotherhood, which wants to form an Islamist state. The more secular are deeply suspicious that the Brotherhood aims to co-opt what they contend is a spontaneous, popular movement.
US officials have suggested they have similar fears. Washington worries an ascendant Muslim Brotherhood could walk away from Egypt's 30-year peace treaty with Israel.
Arab leaders and monarchs elsewhere in the Mideast, particularly in Saudi Arabia and Jordan, both long-time US allies, know they rule over restive populations that share many of the aspirations now driving protesters through the streets of Egyptian cities.
When US President Barack Obama chose Cairo early in his administration to deliver a speech to Arabs and Muslims he cannot have expected the uproar that would later grip Egypt.
The wave of dissatisfaction on the Arab streets is proving the biggest test of Obama's foreign policy dexterity. Given the potential threat to US energy supplies, it could also confound his attempts to put the US economy back on a sound footing.
Comments will be moderated. Keep comments relevant to the article. Remarks containing abusive and obscene language, personal attacks of any kind or promotion will be removed and the user banned. Final decision will be at the discretion of the Taipei Times.