'Yellow Shirts' hit Thai streets again
With neatly spaced tents, massages, free vegetarian meals and a heavy dose of nationalist rhetoric, Thailand's powerful royalist "Yellow Shirts" are back on the streets of Bangkok.
More than a thousand people have camped out around the government's compound since Tuesday, demonstrating against its handling of a border dispute with Cambodia.
Despite relatively small numbers compared to their arch enemies — the anti-government "Red Shirts" whose most recent rally attracted nearly 30,000 people — the group has managed to choke off streets around Government House.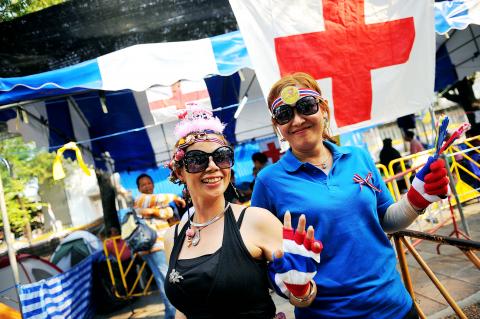 Protesters wave during a rally of Thai nationalist "Yellow Shirts" outside Government House in Bangkok on Friday.
Photo: AFP
Yellow Shirts are a force to be reckoned with in Thailand's color-coded politics and have helped to claim the scalps of three governments in under five years, including that of fugitive former prime minister Thaksin Shinawatra.
The group, officially the People's Alliance for Democracy, want the government to take a tougher stance on the thorny issue of the Thai-Cambodian border.
Tensions center on 4.6km2 of land around the ancient Preah Vihear temple, which the World Court ruled in 1962 belonged to Cambodia, although the main entrance lies in Thailand.
"I came here to help my country. We have to fight to protect our land," said protester Chutikarn Rattanasupa, 42, a grocery shop owner from Nakhon si Thammarat in southern Thailand.
The Yellow Shirts, who boast support from Bangkok elites and elements in the military, used to be linked to Thai Prime Minister Abhisit Vejjajiva, but the relationship has soured.
Abhisit came to power in 2008 after Yellow Shirt rallies, which helped to eject two pro-Thaksin governments. The protests culminated in the seizure of two Bangkok airports, stranding over 300,000 travelers.
Two years earlier the Yellows Shirts had flexed their muscles with demonstrations that destabilized Thaksin's own government, paving the way for the military coup that unseated him.
Paul Chambers of Heidelberg University in Germany said Abhisit may be able to keep his "Teflon prime minister" reputation if he does not bend to the Yellow Shirts' demands.
Although at the same time, "if he does not give in, I think the protests will continue building," Chambers said.
The border issue heated up when seven Thais were arrested in Cambodia last month for illegal entry and trespassing in the disputed zone, including a Yellow Shirt activist who remains in jail facing spying charges.
However, Pavin Chachavalpongpun, of the Institute of Southeast Asia Studies in Singapore, said the territory dispute with Phnom Penh is just an excuse for the Yellow Shirts to "return into the limelight."
"They just want to regain political credibility and the only thing they can do is to attack the current government, whatever the government is," he said.
Thailand's street groups, with an eye on elections looming before next February, are likely to -become ever more prominent, Chambers said.
And the stakes are high. Protests in April and May last year by the mainly rural and working class Red Shirts left more than 90 people dead in clashes between troops and civilians.
"The shirts —- of all colors — are getting out and about to make themselves heard loud and clear," he said.
At the Yellow Shirts' rally site, there is almost a festival atmosphere.
However, coils of barbed wire between the camp and the locked gates of the government compound are a reminder that the Yellow Shirts have been here before.
"I stayed 193 days in 2008 and this time I'm prepared to stay too," Nittaya Kurakan said.
Comments will be moderated. Keep comments relevant to the article. Remarks containing abusive and obscene language, personal attacks of any kind or promotion will be removed and the user banned. Final decision will be at the discretion of the Taipei Times.