Tunisian PM vows to pursue justice
UNITY GOVERNMENT: The prime minister defended his reappointment of some ministers from the previous administration, saying that they 'all have clean hands'
Officials who cracked down violently on protests that helped oust Tunisian president Zine El Abidine Ben Ali will face justice, but ministers who kept their jobs have "clean hands," the new prime minister said yesterday.
The ministers who served under Ben Ali and have retained their jobs in the new government have always acted "to preserve the national interest," Tunisian Prime Minister Mohammed Ghannouchi said on French radio Europe 1.
Ghannouchi unveiled his new government on Sunday, aiming to prepare presidential and parliamentary elections in six months, after Ben Ali was forced into exile following weeks of social protests in which scores died.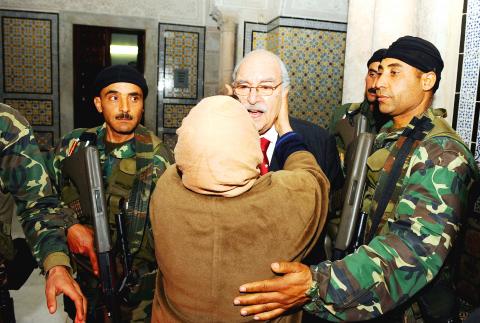 A woman meets acting Tunisian President Foued Mebazaa under tight security at the government's palace in Tunis on Monday. The woman arrived at the palace and asked to meet the president so that he could help her find a house.
Photo: AFP
"All who were involved in those massacres will answer to justice," Ghannouchi said, adding that he never ordered security forces to fire live rounds.
Ben Ali's party, the Constitutional Democratic Rally (RCD) retained the key foreign, interior, defense and finance ministries, even after hundreds demanded in protests in Tunis and other cities on Monday that the party be abolished.
"They kept their posts because we need them at this time," Ghannouchi said.
"All of them have clean hands," he added.
"Thanks to their dedication they managed to reduce certain people's capacity to do harm. They maneuvered, delayed and bought time to preserve the national interest," he said.
On Monday, Ghannouchi named Najib Chebbi, founder of the opposition PDP party, as minister of regional development.
In an act of powerful symbolism an arrested blogger, Slim Amamou — a folk hero of Internet struggles against the Ben Ali regime — was appointed secretary of state for youth and sports.
Ghannouchi said all nongovernmental associations would now be automatically recognized if they wanted to be, while all restrictions on the Tunisian League for the Defense of Human Rights would be lifted.
All political prisoners are to be freed, one of a series of measures aimed at loosening up a political system that for decades was effectively under the sole rule of Ben Ali's RCD party. Opposition supporters have called for the RCD to be shunned or banned, like the Iraqi Baath party after the overthrow of president Saddam Hussein.
The new government quickly rose to one of its biggest challenges by creating a corruption commission to halt the pillaging of the economy by Ben Ali's mafia-style family amid reports that his loathed wife had spirited away gold and cash.
About 1,300 diehard loyalists from Ben Ali's presidential guard were understood to be holed up in the palace in Carthage, where they fought gun battles with the military on Sunday night. Unwilling to lose their powerful positions, they are well-armed and well-funded, and better equipped than the military.
In the center of Tunis, a small, peaceful protest of up to 300 demonstrators, some thought to have links to leftwing opposition movements, gathered on the city's Bourguiba Avenue around midday in protest at the presence of the RCD in the interim caretaker government.
Riot police fired teargas into the crowd and picked some people out, beating them with batons. Protesters tried to regroup but ran screaming into side streets as more teargas canisters flew. As preparations for curfew began at 5pm, the avenue was calm, tanks and soldiers remained outside the interior ministry and plainclothes police, many now wearing white jackets bearing the word "police" — a symbolic change — stood on street corners with batons.
Comments will be moderated. Keep comments relevant to the article. Remarks containing abusive and obscene language, personal attacks of any kind or promotion will be removed and the user banned. Final decision will be at the discretion of the Taipei Times.