Ilda the Red targets vices of Berlusconi
RUBY THE HEARTSTEALER: The Italian magistrate made a career of busting up criminal organizations, but she says the Italian prime minister has been her hardest target
For a man who likes to say he loves women, Italian Prime Minister Silvio Berlusconi may make an exception for Ilda Boccassini, the crusading Milan magistrate who could yet convict him this year for sex offenses.
Known as Ilda La Rossa (Ilda the Red), thanks to her flame--colored hair and progressive sympathies, the Neapolitan-born veteran of mafia cases is one of a trio of Milan magistrates now investigating the Italian prime minister on suspicion that he paid to have sex with an underage prostitute. Berlusconi is also accused of abusing his position to pressure police.
La Rossa's determination to pursue the case has led her to request that, if the case comes to court, pre-trial hearings that slow Italian prosecutions to a crawl will be skipped, meaning that Berlusconi may find himself in the dock as early as this summer.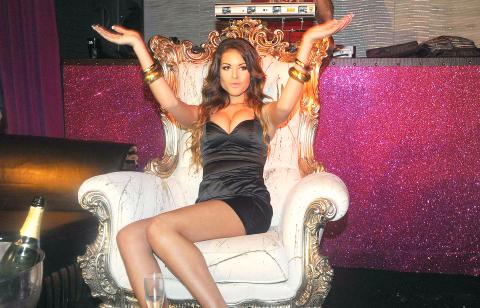 Teenage nightclub dancer Karima El Mahroug, otherwise known as Ruby the Heartstealer, of Morocco poses during a photocall at the Karma disco in Milan, Italy, on Nov. 14 last year.
Photo: Reuters
The development is a serious blow to Berlusconi, who had appeared to emerge relatively unscathed after allegations in 2009 of sleeping with another -prostitute, Patrizia D'Addario. Although he was subsequently abandoned by his wife and involved in other scandals involving young women, a no-confidence vote in the Italian parliament was defeated at the end of last year. However, his government hangs by a thread and can ill afford another sex drama.
The investigation will examine allegations that Berlusconi paid to sleep with a nightclub dancer, Karima El Mahroug, known as Ruby the Heartstealer, when she was 17, and subsequently had her freed from a Milan police station — where she was being held on suspicion of theft — by fooling officers into thinking she was the granddaughter of Egyptian President Hosni Mubarak. If found guilty, the 74-year-old prime minister faces up to 15 years in jail.
Last week an Italian court ruling partly overturned a law shielding the prime minister from any trials he may face while in office.
Berlusconi claimed on Friday that Boccassini and her colleagues were "subverting the fundamental rules of democracy" and joked that they were just "jealous" not to have been invited to the parties at his mansion outside Milan where he entertained Mahroug and scores of other young women.
For Boccassini, who is demanding Berlusconi submit to interrogation this month, the inquiry marks her latest probe into the private life and business dealings of the media mogul since the 1990s, during which time she helped secure the conviction for bribery of his close aide, Cesare Previti.
She once said that tackling Berlusconi was tougher than taking on the mafia, against which she has racked up numerous successes since teaming up with the celebrated magistrate Giovanni Falcone, who was murdered by the Sicilian mob in 1992.
Described by wiretapped mafiosi as a "tiger" who will stop at nothing, this year she crippled operations in northern Italy run by the Calabrian Ndrangheta mafia by mounting raids that netted 300 suspects.
The 61-year-old is the daughter of a magistrate and a mother of two who fiercely defends her private life. Boccassini's refusal to gossip with the press about investigations may also explain how the latest Berlusconi probe has been under wraps since its launch last month.
Details now released show investigators believe Berlusconi's "Bunga Bunga" party guest list extended beyond Mahroug to a regular cast of beautiful women he put up in apartments in Milan. Police raided the apartments last week seeking evidence of cash payments to the women to back up suspicions they were paid to have sex with Berlusconi. Mahroug said she received 7,000 euros (US$9,350) from Berlusconi, although she denies having sex with him. Tracing her movements through mobile phone records, investigators believe she attended six parties and was at Berlusconi's villa last April during a visit by Russian Prime Minister Vladimir Putin.
Corriere della Sera reported that residents included Iris Berardi, a former Miss Italy contestant, the twins Eleonora and Imma De Vivo, who have appeared in an Italian -reality-TV show, and Ioana Visan, an escort previously recruited to attend Berlusconi's Rome parties by Giampaolo Tarantini, the businessman who hired Patrizia D'Addario.
Another reported guest at the Milan parties, Alessandra -Sorcinelli, is known for posing semi-nude on medical TV shows where doctors demonstrate massage techniques on her.
Investigators believe that the stable of women was run by Nicole Minetti, a half-British dental hygienist and TV showgirl who rose to become a local politician in Milan after working on Berlusconi's teeth.
Comments will be moderated. Keep comments relevant to the article. Remarks containing abusive and obscene language, personal attacks of any kind or promotion will be removed and the user banned. Final decision will be at the discretion of the Taipei Times.