G20 vows to tackle spike in food prices
'EXCESSIVE VOLATILITY': Officials are scrambling to find solutions to prevent the increase in costs from slowing down consumer spending in the emerging markets
The world's biggest economies are working to find ways to bring down soaring food prices, a G20 official said on Friday, as top exporter Thailand vowed to keep rice supply steady and avert a repeat of the 2008 food crisis.
Global food prices hit a record high last month, outstripping the levels that sparked riots in several countries in 2008, and key grains could rise further, the UN's food agency said this week.
Policymakers are concerned that, if unchecked, rising food prices could stoke inflation, protectionism and unrest.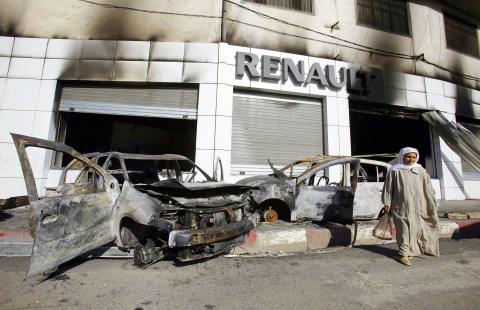 A woman walks past a car dealership on Friday in Bab el-Oued, Algiers. The dealership was damaged by rioters on Thursday as they protested against food prices and unemployment and clashed with police. More rioting broke out on Friday as police deployed around mosques and authorities suspended soccer championship matches.
PHOTO: REUTERS
High food prices and unemployment were blamed for a second day of rioting in Algeria on Friday with police deployed around mosques and authorities suspending soccer matches.
Rhee Chang-yong, who represents South Korea at the G20, said working-group talks were under way aimed at improving global cooperation to resolve food security problems.
"France is emphasizing food security. As a former host country of G20, we would like to deal with the price volatility problem thoroughly," Rhee said.
French President Nicolas Sarkozy has asked the World Bank to conduct urgent research on the impact of food prices, a source familiar with the matter said.
French Prime Minister Francois Fillon said this week that one of France's priorities at the G20, where it holds the rotating presidency, was to find a collective response to "excessive volatility" in prices of food and energy.
One concern is that high food prices could hit consumer spending in fast-growing emerging countries that are leading the revival of the global economy.
Last year, wheat futures prices rose 47 percent, buoyed by bad weather including drought in Russia and its Black Sea neighbors. US corn rose more than 50 percent and US soybeans jumped 34 percent.
The UN Food and Agriculture Organization said in a report on Wednesday that sugar and meat prices were at their highest since its records began in 1990. For wheat, rice, corn and other cereals, prices were at their highest since the 2008 crisis.
During that crisis, riots broke out in countries from Egypt to Haiti. Import prices jumped, forcing many countries' trade balances into a deep and costly deficit and several governments in Asia imposed export restrictions on rice.
The UN's World Food Program, which was feeding about 100 million people last year, noted that cereals including rice had not hit 2008 price peaks, but that sugar and cooking oil were pushing up the food index.
"We're ready to step up assistance specifically to countries that are vulnerable to these high prices, especially focusing also on risks to children," World Food Program spokeswoman Emilia Casella said at a briefing in Geneva, Switzerland.
She said a fairly good harvest in a number of African countries last year had helped and that reserves were higher than in the 2008 crisis, while fuel prices, which affect fertilizer and the transport of food, were lower.
Robert Prior-Wandesforde, an economist at Credit Suisse in Singapore, said food commodity prices were unlikely to rise much further, barring weather catastrophes.
"The estimated global and exporting countries' stock-to-use ratios of both wheat and rice are considerably higher today than in 2007-2008, making shortages and drastic export bans unlikely," he said in a report.
However, the London-based venture capital firm Emergent Asset Management, which holds swathes of land across southern Africa, still sees much more mileage in food prices.
"The world is still in denial about food prices," chief investment officer David Murran said. "If you look at demographics, if you look at production, if you look at the impact of climate change, then we are only at the beginning of this."
Many countries, including Brazil, India and China, have seen food inflation jump to double digit levels. Inflation rates accelerated across Latin America last month, as costs spiked for food, increasing pressure on policymakers to raise interest rates. Prices rose sharply for Mexican tortillas and Chilean beef last month, while Brazilian bean costs surged during last year.
China has imposed price controls to try to ensure stable prices for consumers. On Friday, Ethiopia announced similar measures.
Thailand, the world's biggest rice exporter, sought to reassure the market, with Thai Commerce Minister Porntiva Nakasai telling reporters it would maintain this year's exports at 9 million to 9.5 million tonnes after shipping 9 million last year.
The Philippines, the world's biggest buyer of rice, said it would cut this year's imports by at least half, compared with record purchases last year, further easing concern of a tight rice market this year.
Still, the head of the Philippine National Food Authority, which oversees rice imports, said it might increase its buffer stock to cover a minimum 40 days of demand, from 30 now.
A senior food official in Bangladesh said it was worried about food security and had imported 250,000 tonnes of rice from Vietnam.
In Indonesia, which has the world's fourth-largest population, a fivefold rise in the price of chillies in the past year has helped drive overall inflation to near 7 percent.
Farmers are operating around-the-clock patrols to protect their chili plants and Indonesian President Susilo Bambang Yudhoyono has urged households to plant chillies in their gardens.
In India, where onion prices have triggered protests in the past, prices have jumped after weather damaged the crop and officials have opened talks with Pakistan about resuming imports.
Comments will be moderated. Keep comments relevant to the article. Remarks containing abusive and obscene language, personal attacks of any kind or promotion will be removed and the user banned. Final decision will be at the discretion of the Taipei Times.