Gas blast death toll now seven
CAUSE AND EFFECT The discovery of welds on the ruptured section of pipeline has raised questions about safety given that it ran through 'high consequence areas'
The death toll from a huge gas pipeline blast in California rose to seven late on Saturday after the bodies of three more victims were found.
The gruesome discovery was reported by city police chief Neil Telford, who said the bodies had been found by specially trained search dogs.
"Our hearts go out to the victims of this tragedy," Telford said. "This is devastating to so many families."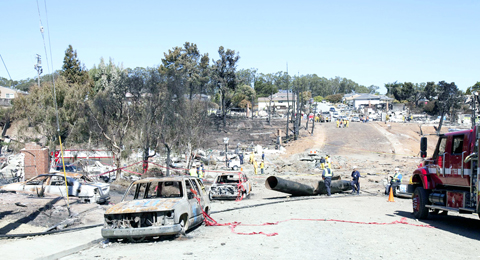 The remains of burned vehicles and homes are seen near the site of a natural gas ­explosion in San Bruno, California, on Saturday.
PHOTO: REUTERS
Meanwhile, six more people remain missing authorities said. The massive explosion and inferno ripped through a neighborhood in San Bruno near San Francisco early on Thursday evening, leaving residents shocked by the sudden devastation.
US President Barack Obama on Saturday called California Governor Arnold Schwarzenegger, who is currently on a trade trip to Asia, "to express his condolences for the tragic loss of life in San Bruno and his concern for those still recovering from injuries," White House spokesman Robert Gibbs said in a statement.
Several San Bruno residents said they had complained of gas smells over the past few weeks and some said they saw Pacific Gas & Electric (PG&E) crews in the area, who apparently did not take any measures.
PG&E president Chris Johns told a press conference on Saturday that the company was "reviewing all the phone records ... As of right now, we have not been able to confirm any calls ... in that vicinity, happening in the first nine days of September."
PG&E said that a natural gas main ruptured in the town near San Francisco International Airport.
That section of gas pipeline was ranked as high risk because it ran through a highly populated area, state and federal authorities said on Saturday.
One of the victims killed in the inferno on Thursday worked for the commission reviewing PG&E's investment plans to upgrade its natural gas lines, including another risky section of the same pipeline within miles of her home, a colleague confirmed.
Longtime California Public Utilities Commission analyst Jacqueline Greig and her 13-year-old daughter Janessa died in the massive blast. Jessica Morales, 20, was also killed in the explosion and fire.
Greig spent part of the summer evaluating PG&E's expansion plans and investment proposals to replace out-of-date pipes, co-worker Pearlie Sabino said.
Sabino and Greig were members of a small commission team that advocates enhanced measures protecting consumers and the environment in the field of natural gas.
Among the paperwork PG&E submitted for gas rate proceedings with regulators was a document ranking a section of the same gas line about 4km from the blast as within "the top 100 highest risk line sections" in the utility's entire service territory.
PG&E did not immediately respond to a request for comment on Saturday, referring questions related to the investigation to federal authorities.
The federal Pipeline and Hazardous Materials Safety Administration classified the 76cm diameter transmission line, which ran for about a 2.4km near Greig's home, as a "high consequence area" requiring more stringent inspections called integrity assessments, agency spokeswoman Julia Valentine said.
Nationwide, only about 7 percent of gas lines have that classification, she said.
The state commission gave that section of pipe the same classification and had conducted audits on that stretch, spokeswoman Terrie Prosper said.
PG&E also had conducted leak surveys, evaluations and patrols on the gas line, she said.
Reams of data and records have been requested from PG&E, US National Transportation Safety Board vice chairman Christopher Hart said at a Saturday evening briefing.
An inspection of the severed pipe chunk revealed that it was made of several smaller sections that had been welded together and that a seam ran its length, Hart said.
The presence of the welds did not necessarily indicate the pipe had been repaired, he said.
Asked whether a welded pipe was more susceptible to leaks or corrosion, Hart said: "Maybe, and maybe not."
Comments will be moderated. Keep comments relevant to the article. Remarks containing abusive and obscene language, personal attacks of any kind or promotion will be removed and the user banned. Final decision will be at the discretion of the Taipei Times.