Kiwi quake victims remain positive
RESILIENCE RULES One couple refused to let the earthquake interrupt their wedding day and used the destruction as a backdrop for their wedding photos
The response among New Zealanders to the most devastating quake in decades has been "tremendous," with an "astonishing atmosphere of resilience" among affected communities, politicians and media said yesterday.
The government said it had turned down international offers of aid after Saturday's magnitude 7.0 quake, as people pulled together to help those left without shelter, food or water.
New Zealand Civil Defence Minister John Carter said the disaster, which cut a swathe through Christchurch and the Canterbury district, had brought out the best in people.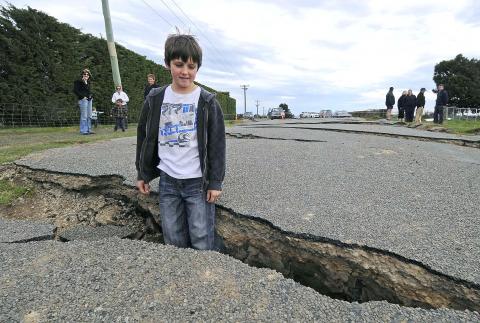 Taylor Strowger, 10, from Darfield explores earthquake damage to a road 30km west of Christchurch, New Zealand, yesterday.
PHOTO: EPA
"It has been tremendous to see the people of Canterbury rally around each other in this disaster and this has certainly reduced demand on the welfare centers," he said. "It is a great testament to our country that Kiwis can call on family, friends and neighbors, and even in some cases strangers, in times of emergency."
Although the streets were strewn with rubble and shattered glass, and large holes and fissures had appeared in main roads, officials yesterday said they had the situation under control.
Offers of help from the US military and from various UN programs were refused, civil defense director John Hamilton said, with the nation of 4 million able to fend for itself.
"I suppose they're probably surprised that we turned down their offers of assistance because in most cases an earthquake of the magnitude that we've experienced would inevitably result in high casualty numbers and the need for humanitarian assistance," he said. "We're very grateful that the offers were made and fortunately we were able to say 'not required.'"
A state of emergency declared soon after the quake would be reviewed today, officials said.
Saturday's earthquake caused a mess of crumbled buildings, crushed cars and mangled roads which New Zealand Prime Minister John Key described as looking like parts of the city had been "put in the tumble dryer and been given a darn good shake."
However, after the initial shock, New Zealanders quickly set about providing food and accommodation for those who had lost their homes.
With electricity and water supplies cut, neighborhood barbecues were organized as families pooled food and water supplies.
In rural areas, farmers set up a network of generators to ensure all milking would be completed as quickly as possible.
Opposition leader Phil Goff said he was amazed at the attitude of a couple he met removing possessions from their house, which was only fit for demolition.
"They were saying things like 'well, it could be a lot worse, think of the people in Pakistan where their homes and property have been destroyed, they have nobody to help them out, their kids are suffering from disease,'" he said.
Throughout the day the media arrived to collect stories of survival and found "an astonishing atmosphere of resilience," the Sunday Star-Times reported.
"Christchurch took on a carnival atmosphere as strangers compared notes," it said. "A community rallied and shared its bottled water with its neighbors ... even those who had lost almost everything were remarkably upbeat."
Roderick Smith and partner Nina refused to let the earthquake interrupt their wedding day and used the destruction as a backdrop for their wedding photos.
"All the places we were going to do photos were blocked [so] what we've been doing is driving around and finding nice looking rubble and making the most of a bad situation," Nina told the Stuff Web site.
The chapel where they held the wedding was unscathed but the reception venue was unusable so the party packed into a coffee shop instead.
Nigel Smith spent Saturday using his four-wheel drive to pull stuck cars out of people's driveways.
"Something like this brings people together," he said. "It's amazing how everyone has come out and is helping each other."
Key said it looked like a scene out of a movie: "The roads were just ripped apart. I saw a church completely broken in half."
The earthquake was New Zealand's most destructive since the 1931 tremor in Napier that killed 256 people.
Comments will be moderated. Keep comments relevant to the article. Remarks containing abusive and obscene language, personal attacks of any kind or promotion will be removed and the user banned. Final decision will be at the discretion of the Taipei Times.