FEATURE : Philippine gun fans happy their president is one of them
Standing amid an array of foreign assault rifles and local shotguns at one of the Philippines' largest shopping malls, firearms aficionados celebrated the rise of the nation's new president.
Philippine President Benigno Aquino III, who took office on Friday, is an avid sports shooter and clips on YouTube show him using a semi-automatic pistol with great skill at a target shooting competition.
"The feeling is that he is one of us. He also inhales gunpowder," said Johnmuel Mendoza, head of PRO-Gun, the country's largest firearms-rights group, at the twice-yearly gun show in Manila's Megamall.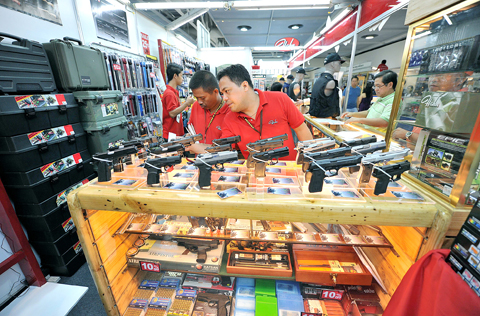 Shop assistants stand next to handguns for sale at a gun show in Manila, Philippines, on July 15.
PHOTO: AFP
Indeed Aquino, the Supreme Court chief justice and other influential figures have been frequent visitors to the shows in recent years, Mendoza said.
And in the gun-crazy Philippines, having a firearms exhibition alongside shops selling perfume, designer clothes and frozen yogurt appears remarkably normal.
Women with infants and schoolchildren attended last month's five-day show, not necessarily to buy guns but just to marvel at the weapons as if they were browsing through the mall's retail outlets.
"It's Rambo's gun," said one boy, looking at a machine-gun on display. "Stupid, that's from World War II," his classmate replied.
Among the highlights of the show were the various companies offering shoulder bags, belt packs and photographer's vests that were all designed to conceal a handgun.
"Just one pull on the strap and you can have your gun out in the blink of an eye," said a salesman demonstrating a quick-draw from the holster cunningly concealed inside a shoulder bag.
Despite the ominous brand-name "Assassin," the salesman denied the bag was designed with malicious intent.
"This was made to comply with police requirements," he said, citing new rules banning people from carrying guns openly.
Experts gave lectures on legal aspects of gun ownership, sports shooting and how to maintain a firearm, while a fashion show featured models showing off catchy new holster designs.
The stalls that got the most attention displayed exotic military hardware, even though ordinary citizens are not allowed to own such weapons. People lined up to have their photos taken cradling a Tavor assault rifle or taking aim with a Remington sniper rifle.
"It's like a car show where you go to see a Mercedes Benz or a Porsche. You can't buy these cars but you can get inside, try it out. That is how it is at the gun show," lawyer and gun enthusiast Ernesto Tabujara said.
During his visit, Tabujara got a chance to handle both the Israeli Tavor and the Swiss-designed SIG 556 rifle.
"If I could choose, I would prefer the Tavor. The SIG has the set-up of a basic M-16 rifle but the Tavor has more exotic looks and has very good quality," he said.
In the Philippines, anyone can get a license to own a conventional gun, subject to a police clearance and other security checks. The law allows people to carry guns outside their homes if they can prove to police they may need to use it in self-defense. It is commonplace for off-duty police, lawyers, judges, businessmen and even journalists to walk the streets with guns.
There are about 1.3 million licensed firearms in the Philippines, with 600,000 in the hands of civilians and the rest held by the military, police and other law-enforcement agencies, police estimates show.
However police said last year there were also about 1.1 million unlicensed firearms. The tally means there is roughly one firearm in circulation for every 40 Filipinos.
National police chief Director-General Jesus Verzosa this year pushed for an extension of a six-month ban on carrying guns in public that was put in place to help limit violence surrounding national elections in May. However, he backed down following an outcry by the powerful gun lobby.
Chief Superintendent Gil Meneses, head of the firearms division, said that trying to disarm the population would be nearly impossible.
"Our society is pro-gun. People are not really saying they don't want guns. They are saying they want less crime," Meneses said at the gun show.
Church leaders and civil society groups insist that loose gun laws are one of the major factors in the Philippines having such a violent society. Police statistics show violent crime across the country dropped by about a third during the election-related six-month ban on the public carrying of firearms, backing the anti-gun lobby's argument.
Aquino also said shortly after assuming the presidency that he was open to police proposals to make it tougher for people to buy a gun.
"It [firearms possession] is not a right under our law. It's a privilege. There are certain conditions you have to meet to be granted a [gun] license and there is some looseness in the implementation of the rules," the president said.
Comments will be moderated. Keep comments relevant to the article. Remarks containing abusive and obscene language, personal attacks of any kind or promotion will be removed and the user banned. Final decision will be at the discretion of the Taipei Times.