Illegal logging of tropical forests declining: study
Illegal logging of tropical woodland has fallen sharply, providing welcome news in the fight against climate change and a lifeline for a billion poor people who depend on forests for survival, a report released yesterday said.
Since 2000, international efforts to stem the illicit felling of trees has spared some 17 million hectares in three countries alone, amounting to a preserved area larger than England and Wales, the London think tank Chatham House said.
In Brazil, which contains more than a quarter of the planet's tropical cover, outlaw logging over the last decade dropped by between 50 percent and 75 percent, mainly due to stricter laws and tougher enforcement.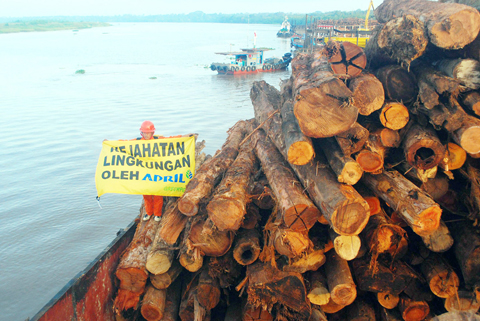 A Greenpeace activist unfurls a banner that reads "April stop trashing our future" during a protest action yesterday at the April concession area where logs are delivered in Pelalawan, Riau Province, Indonesia.
PHOTO: AFP/GREENPEACE
The rate of decline in Indonesia was 75 percent, and in Cameroon pirate logging was cut in half.
But in two other countries covered by the study, the level remained roughly unchanged over the same period.
In Ghana, the problem continues to be endemic, accounting for around two-thirds of overall timber production.
In Malaysia, illegal harvesting still represents 14 percent to 25 percent of total output, the lowest of the five nations under review.
Overall, illegal logging remains a serious challenge. A total of 100 million cubic meters were illegally harvested in these countries alone last year.
The stakes are high, lead author Sam Lawson said.
"Up to a billion of the world's poorest people are dependent on forests, and reductions in illegal logging are helping to protect their livelihoods," he said.
The findings also highlight the critical role of forests as a bulkhead against global warming: deviation from "business as usual" has kept at least 1.2 billion tonnes of heat-trapping carbon dioxide from leaking in the atmosphere, he said.
Further efforts on forest preservation are being pursued under the UN Framework Convention on Climate Change.
Loss of forestry accounts for between 12 percent and 20 percent of annual greenhouse-gas emissions. However, illegal logging remains a relatively small part of the problem — conversion of forest land to crops, cattle ranching and urban construction are bigger factors.
Globally, about 130,000km² of mainly tropical forests were lost every year over the last decade, the Food and Agriculture Organization (FAO) said.
The Chatham House study estimates that five consumer nations — the US, Japan, Britain, France and the Netherlands — together purchased 17 million cubic meters of illegal timber in 2008 worth about US$8.4 billion.
Most of the wood entered these countries in the form of furniture and plywood, mainly from China, which has become the largest importer, processor and exporter of illegal timber in the world, according to the study.
Recent legislation in Washington and Brussels may help to curb traffic in illicit tropic woods even further.
In 2008, the US became the first country to prohibit all trade in plants and plant products — furniture, paper, lumber — sourced illegally. The Lacey Act requires importers to indicate exact origin of wood products, and provides for stiff penalties.
The European Parliament this month approved similar legislation, widely hailed by environmental groups as a critical step in the protection of tropical forests.
Comments will be moderated. Keep comments relevant to the article. Remarks containing abusive and obscene language, personal attacks of any kind or promotion will be removed and the user banned. Final decision will be at the discretion of the Taipei Times.