Heavy rains, wind ravage East Asia
STORM WATCH: With Typhoon Conson expected to hit China and Vietnam today, Japan urged a mass evacuation after the storm hit Manila harder than expected
Heavy rains and powerful winds battered East Asia yesterday, pressing authorities to evacuate hundreds of thousands of people from their homes in Japan and putting China on alert for its worst floods in years.
In the Philippines, power was gradually restored to millions of homes in and around Manila after Typhoon Conson hit the capital harder than expected on Tuesday night, killing 23 people and leaving dozens missing.
Tropical Storm Risk yesterday downgraded the typhoon to a tropical storm, but the Philippines' weather bureau said it was expected to regain strength as it moved over the South China Sea and headed toward southern China and northern Vietnam.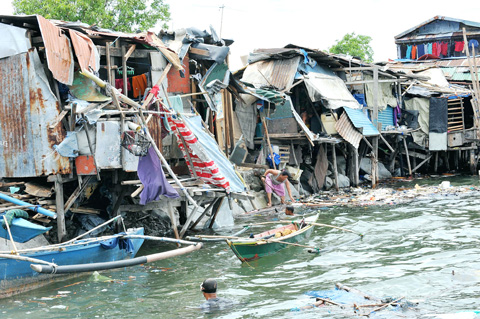 A woman salvages wood for repairs on her shanty home after it was damaged by Typhoon Conson along a breakwater in Manila Bay yesterday. Troops scoured jagged coastlines along the Philippines' eastern seaboard in search of dozens of fishermen who went missing after the typhoon battered the country.
PHOTO: AFP
Conson is due to hit land late today, the Tropical Storm Risk Web site said.
China's Xinhua news agency said the storm would make landfall in Hainan Island's southern resort city of Sanya before moving into Guangdong and Guangxi, bringing heavy rain.
"Winds will gradually strengthen and it may increase in intensity to a typhoon," the China Meteorological Administration said on its Web site, www.cma.gov.cn.
More than 24,000 fishing boats have taken shelter in harbors around Hainan and ferry services between the island and the mainland will be stopped in the early evening, Xinhua said.
Typhoons and tropical storms regularly hit Taiwan, the Philippines, China and Japan in the second half of the year, gathering strength from the warm waters of the Pacific Ocean or South China Sea before normally weakening over land.
Japan's Kyodo news agency said local governments had recommended that about 300,000 people be evacuated from their homes, as the Meteorological Agency forecast heavy rains from a separate weather system for the west and east of the country later yesterday.
TV images showed some houses tilted after being hit by mudslides, swollen rivers and abandoned cars almost totally submerged in flooded streets. Footage also showed a rescue crew saving a man caught in a fallen tree on a fast-running river.
Authorities say at least two people have been killed.
Central China also faces its worst flooding since 1998, when thousands died, as rain continues to batter the upper and middle reaches of the Yangtze River.
"Although the current situation along the Yangtze River has yet to reach the danger level, it is definitely at a crucial point," the China Daily quoted senior flood official Wang Jingquan (王井泉) as saying.
"If heavy rain hits the upper reaches of the Yangtze River, coupled with the continuous rainfall in the middle and lower reaches, severe flooding similar to that in 1998 will occur," Wang added. "There will be no room for optimism as the incoming Typhoon Conson will add to the grave situation in flood control."
Yangtze floods 12 years ago killed more than 4,000 people and forced the evacuation of more than 18 million.
Rain across a large swathe of southern China has already killed around 400 people this year.
Chinese President Hu Jintao (胡錦濤) and Premier Wen Jiabao (溫家寶) have ordered local governments to step up flood relief efforts and "stressed that people residing in areas under the threat of floods and typhoons must be relocated to safety in a timely manner," the report said.
Trains, planes and ferries returned to normal operations in the Philippines as Typhoon Conson tracked toward Hainan.
More than 8,000 people remained in temporary shelters in five cities and 47 towns on Luzon, the Philippines' main island.
About 40 percent of the Luzon power grid's daily requirement of nearly 5,500 megawatts had been restored, although repairs have been slowed down by damaged bridges and roads, fallen trees and posts and snapped cables and transmission lines.
Power distributor Manila Electric Co (Meralco) said it had restored power in most of the capital, but wider areas south of Manila were expected to remain in the dark until today.
Civil defense chief Benito Ramos said the typhoon had not caused a great deal of damage to rice-and coconut-growing areas near the capital.
Comments will be moderated. Keep comments relevant to the article. Remarks containing abusive and obscene language, personal attacks of any kind or promotion will be removed and the user banned. Final decision will be at the discretion of the Taipei Times.