Cuban dissidents facing uncertain future in Spain
As Spain prepares to receive more political prisoners from Cuba, the seven who arrived with their families this week are welcoming their freedom despite an uncertain future in a nation hit hard by Europe's debt crisis.
They spent their first night in Spain in a cheap hotel with shared bathrooms in an industrial zone of Madrid.
They appeared somewhat dazed after landing with just a few suitcases, or in at least one case, without even a change of clothes.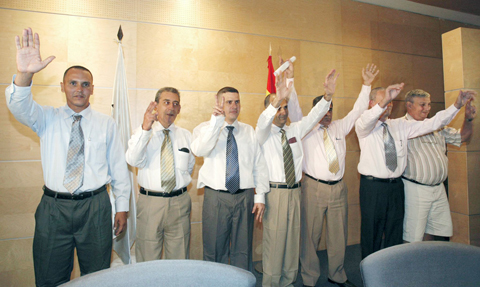 From left to right, Cuban dissidents Lester Gonzalez, Antonio Villarreal, Pablo Pacheco, Jose Luis Garc Paneque, Julio Cesar Galvez, Omar Ruiz and Ricardo Gonzalez Alfonso wave to the press upon their arrival at Madrid's Barajas airport on Tuesday.
PHOTO: EPA
"The change is abrupt, we're a bit nervous, and a little disoriented," said Omar Ruiz, a 62-year-old journalist who had been sentenced to 18 years in prison.
"When I arrived in the plane I thought I was still in Cuba, and I couldn't orient myself," he said.
However, they said in interviews on Tuesday that Spain was a gift compared with the prisons where they were held in Cuba.
"I can't complain, and I'll shoot anyone that does," said Ricardo Gonzalez, who had been sentenced to 20 years in prison after working for Reporters Without Borders.
Now "I aspire to find work ... One has to aspire to work," he said.
That may be tough for the dissidents — most of them journalists — in a country struggling with 20 percent unemployment after a two-year recession. Spain's journalism industry is hurting, with job freezes and layoffs the norm.
Another four dissidents were due to fly into Spain with their families yesterday, Spanish Foreign Minister Miguel Angel Moratinos said, adding that all of Cuba's political prisoners would eventually be released by Havana. A total of 20 have agreed to move to Spain.
"All those who are political prisoners will be released from jail," Moratinos told journalists at Parliament in Madrid.
Aid groups will cover the men's living costs while their residency documents were being arranged.
Comments will be moderated. Keep comments relevant to the article. Remarks containing abusive and obscene language, personal attacks of any kind or promotion will be removed and the user banned. Final decision will be at the discretion of the Taipei Times.