New index reveals spectrum of poverty
MULTIDIMENSIONAL The index uses 10 variables including access to cooking fuel, schooling, nutrition, electricity and sanitation to put poverty in context
There are more poor people in eight states of India than in the 26 countries of sub-Saharan Africa, a study revealed yesterday.
More than 410 million people live in poverty in the Indian states, including Bihar, Uttar Pradesh and West Bengal, researchers at Oxford University, England, found. The "intensity" of the poverty in parts of India is equal to, if not worse than, that in Africa.
When the vast central Indian Madhya Pradesh state, which has a population of 70 million, was compared with the Democratic Republic of the Congo, the war-racked African state of 62 million inhabitants, the two were found to have near-identical levels of poverty.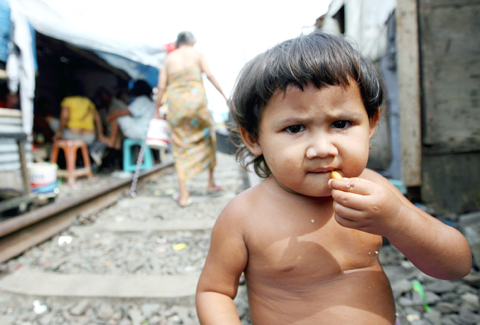 A two-year-old boy named Deni eats cookies near his tent in a slum area in Jakarta, Indonesia, yesterday. The Central Statistics Agency (BPS) reported the number of Indonesians living in poverty dropped by 1.5 million during the year ended March, partly because of the stability of food prices. As of March, around 31.02 million people were living below the poverty line, or about 13.33 percent of the total population, a BPS report said. These figures indicate a reduction of 1.5 million people from the 14.15 percent of the total population who were living in poverty in March last year.
PHOTO: EPA
The study is based on an innovatory "multidimensional poverty index," or MPI, developed by specialists at Oxford. To be used for the first time in the authoritative and influential UN Human Development Report when it is published this autumn, it will replace a simpler method of calculating poverty introduced over a decade ago.
The index uses 10 major variables including access to good cooking fuel, schooling, electricity, nutrition and sanitation.
"[It] is like a high-resolution lens which reveals a vivid spectrum of challenges facing the poorest households," said Sabina Alkire, director of the Oxford Poverty and Human Development Initiative and a co-developer of the index. "Before, you might know a person was poor but did not know if their children went to school, if they had a floor or if they cooked on wood."
In Madhya Pradesh poverty levels were higher because of malnutrition. In Congo, access to schooling was a problem.
The study's conclusions will reinforce claims that distribution of the wealth generated by India's rapid economic growth — recently around 10 percent year on year — is deeply unequal. Indian Prime Minister Manmohan Singh has repeatedly said he wants to see "inclusive" development.
Poverty has long proved difficult to define. The World Bank bases its definition on household income and estimates that a quarter of the developing world lives on US$1.25 a day or less. However, relying simply on money "excludes everything that is outside the cash economy and doesn't look at issues such as housing [or] access to safe water," said William Orme, a spokesman for the UN Development Programme in New York.
To compile the index, researchers analyzed data from 104 countries — which did not include Taiwan — with a combined population of 5.2 billion, 78 percent of the world total. About 1.7 billion — a third — live in multidimensional poverty, they found. This is 400 million more than are estimated by the World Bank to be in "extreme" poverty. The new index is also designed to track ­variations within countries much better. So while the poverty rate is more than 80 percent in the rural state of Bihar, it is about 16 percent in the southern state of Kerala.
Some countries have dropped steeply down the poverty rankings in the new list. Turkey, Egypt, ­Pakistan and Morocco were found to have much more poverty under the new index than when using simple household income. Others, such as Tanzania, Nicaragua, Uzbekistan, Vietnam and China were found to have less. China was ranked 46 out of 104, three places behind Brazil. India came in 63rd, just after Togo but ahead of Haiti.
"In many cases, it is probably linked to previously high levels of social investment," Alkire said. "It shows that a low per capita GDP income doesn't necessarily mean high poverty."
Comments will be moderated. Keep comments relevant to the article. Remarks containing abusive and obscene language, personal attacks of any kind or promotion will be removed and the user banned. Final decision will be at the discretion of the Taipei Times.