More deaths linked to LA killer case
FAMILY TIES A man who is accused of 10 murders lived just blocks away from where the women were killed, and police were only led to him because of his son's DNA
Investigators are re-examining more than 30 cold case files to see if they can be tied to a suspect in the "Grim Sleeper" killings, the Los Angeles police chief said on Friday. \nThe cases, dating back to 1984, will be scoured for leads in light of new information gleaned since Wednesday's arrest of Lonnie Franklin Jr on 10 counts of murder and other charges. \n"Now that we know who he is, where he lives, the cars he drove, have people to interview, we will go over all those old cases and look for connections," Los Angeles Police Chief Charlie Beck said. "This is a city that was no stranger to homicides in the 1980s and 1990s, and we will be looking at all of those, especially the ones where the victims were female." \nInvestigators will upload Franklin's DNA profile into a national database to see if it matches other samples where the DNA had degraded and scientists were only able to get a partial sample, Beck said. \nFranklin was dubbed the Grim Sleeper after a string of murders of young black women had south Los Angeles on edge in the mid-1980s. \nThen the killings suddenly stopped, only to resume again 14 years later. \nNow, investigators say they have possibly uncovered the reason for the long respite: He may have been spooked by a near miss by police in 1988. \nFranklin was arrested on Wednesday at his lime-green house, just three doors down from a home that was searched extensively by police 22 years ago after the killer's only known survivor led cops there. \nBeck also said that billboards plastered with a US$500,000 reward and the suspect's police sketch were posted just eight blocks from Franklin's house and he drove by them every day. \n"We think that impacted the suspect's behavior in one of two ways: Either he became more careful or he stopped his behavior for a number of years. That's an evolving theory," Beck said. "It's going to be difficult to be absolutely certain absent his confession." \nFranklin's public defender, Regina Laughney, said she was still reviewing materials in the case and it was too early for her to comment. \nLaw enforcement said that despite more than two decades of old-fashioned police work, they were eventually able to crack the case using a brand new — and controversial — technique of "familial DNA." \nEarly last month, the Los Angeles Police Department (LAPD) submitted DNA evidence found on victims to the California Department of Justice, where geneticists ran it through a database of 1.5 million samples. \nThe database found no identical matches, but did find a "familial" match to a convicted felon whose DNA indicated he was either a brother or the son of the killer. An earlier search in 2008 had found no familial matches, but Franklin's son was added to the database in recent months for a felony weapons conviction. \nState investigators alerted the LAPD of Franklin's identity on June 30 after verifying the match through birth certificates, incarceration records and comparing Franklin's address to locations where the victims were found. \nHowever, police still needed a sample of Franklin's DNA to definitively match it to the genetic material found on the victims. \nAn undercover officer pretending to be a waiter in Los Angeles collected tableware, napkins, glasses and pizza crust at a restaurant where the suspect ate, allowing detectives to obtain a DNA match. \nFranklin made a first court appearance on Thursday on the murder counts as well as one count of attempted murder and special-circumstance allegations of multiple murder that could lead to the death penalty or life in prison without possibility of parole. \nHis arraignment was postponed until Aug. 9 at the request of his attorney.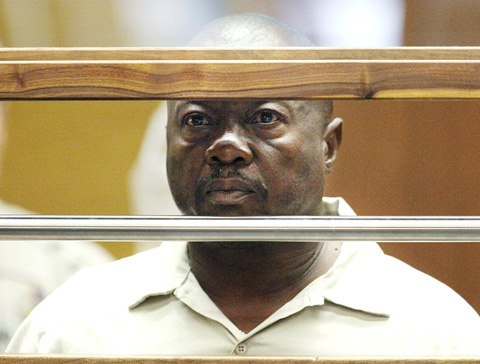 Lonnie David Franklin Jr stands in court during his arraignment on 10 counts of murder and one count of attempted murder in Los Angeles Criminal Court on Thursday.
PHOTO: REUTERS
Comments will be moderated. Keep comments relevant to the article. Remarks containing abusive and obscene language, personal attacks of any kind or promotion will be removed and the user banned. Final decision will be at the discretion of the Taipei Times.