Cuba to free 52 political prisoners
A NEW ERA? Of 75 prisoners rounded up in a 2003 crackdown, 52 remain behind bars, all of whom are now to be released. The initial five could be exiled in Spain
Cuba has promised the Roman Catholic Church it will free 52 political prisoners, slashing the number it holds by nearly a third in what would be the country's largest release of dissidents since Pope John Paul II visited in 1998.
Five would be released initially and they would go into exile in Spain, while the others would be freed over the next three or four months, Havana archbishop Cardinal Jaime Ortega said.
The deal struck on Wednesday followed a meeting between Cuban President Raul Castro and Ortega. Also participating was visiting Spanish Foreign Minister Miguel Angel Moratinos.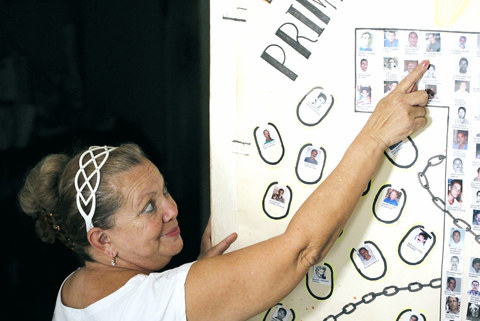 Laura Pollan, leader of The Ladies in White, a group made up of family members of imprisoned dissidents, points to a picture of her jailed husband, Hector Maceda, after she received news of government plans to free prisoners at her home in Havana, Cuba, on Wednesday.
PHOTO: REUTERS
"Today we announce with complete satisfaction that the objectives we have worked toward have been met," Moratinos said.
A statement from the Spanish embassy declared: "This opens a new era in Cuba with hope of putting aside differences once and for all on matters of prisoners."
Moratinos did not take any freed prisoners back to Spain with him. He and Ortega said they weren't sure how long it would take for the first five prisoners to be released.
Human rights and opposition activists called the scope of the agreement a surprise.
"We were hoping for a significant release of prisoners, but not this," said Elizardo Sanchez, head of the independent Cuban Commission on Human Rights and National Reconciliation.
Ortega said those to be released were all members of a group of 75 leading political opposition activists, community organizers and journalists who report on Cuba in defiance of state controls on media. They were rounded up in a crackdown on dissent in March 2003.
"I'm so excited," said Laura Pollan, whose husband, Hector Maceda, was one of the 75 and has been serving 20 years in prison for treason.
But Pollan was also hesitant, saying she worried the government might not free as many political prisoners as it said it would.
"I don't think they will let everyone go; I think only some will be," she said in her shabby living room in crumbling central Havana. "It won't be the first time that they lie."
However, she later added: "I hope to God I'm wrong and can tell you in September that I was wrong and that the government kept its promise."
Some of the 75 original prisoners had previously been freed for health reasons or after completing their terms, or were allowed into exile in Spain. However, 52 have remained behind bars — most serving lengthy prison terms on charges of conspiring with Washington to destabilize Cuba's political system. All are now seemingly poised to go free.
Ortega did not divulge which five prisoners would be released first, or how they were chosen, saying he couldn't do so because some of their relatives had yet to be notified.
Comments will be moderated. Keep comments relevant to the article. Remarks containing abusive and obscene language, personal attacks of any kind or promotion will be removed and the user banned. Final decision will be at the discretion of the Taipei Times.