Netanyahu vows to discuss West Bank in peace talks
OFFER TO PALESTINIANS In a CNN interview in New York City, the Israeli prime minister urged Mahmud Abbas to meet for talks 'right now,' without any preconditions
Israeli Prime Minister Benjamin Netanyahu pledged on Wednesday that the future of Israeli settlements in the occupied West Bank would be among the first issues to be negotiated if the Palestinians resume direct peace talks.
"One of the things we'll discuss right away is settlements, and that's what I propose doing," he said in an interview on CNN television.
Netanyahu flew into New York earlier in the day from Washington where he met US President Barack Obama on Tuesday.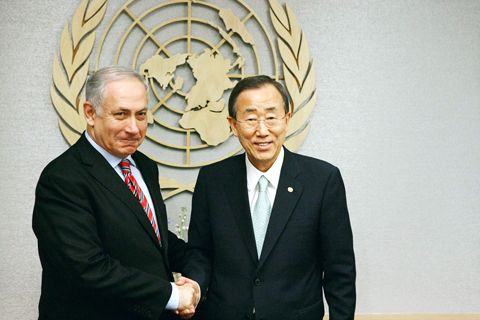 Israeli Prime Minister Benjamin Netanyahu, left, meets UN Secretary-General Ban Ki-moon at the UN Headquarters in New York City on Wednesday.
PHOTO: EPA
The US administration had been hoping that Netanyahu might extend a 10-month freeze on settlement due to expire in September, but Obama appeared to accept that Netanyahu was neither willing nor able to deliver an extension.
Netanyahu's coalition government leans heavily on hawks, bitterly opposed to any limits on settlement in the West Bank, on land which the Palestinians claim for a future state.
Obama, hoping to take some of the sting out of the settlement dispute called for direct peace talks to begin "well before the moratorium has expired."
In Wednesday's CNN interview Netanyahu repeated his call for Palestinian President Mahmud Abbas to come to the negotiating table "right now, we don't need any pretext or precondition."
He accepted interviewer Larry King's proposal to talk to Abbas in a three-way television hookup with Jordan's King Abdullah if the other parties agreed.
The Palestinians froze direct negotiations in December 2008, when Israel launched a deadly 22-day offensive into the Hamas-ruled Gaza Strip, in a bid to halt cross-border rocket attacks.
Earlier on Wednesday Netanyahu addressed American Jewish leaders in New York, where he illustrated the deep bonds between Israel and the US by recalling the first hours after the Sept. 11 terror attacks in New York and Washington.
"There were reactions that were different throughout the Middle East," he said. "In many places there were celebrations, in Israel people wept, they grieved."
"America has no better friend, no better ally than the state of Israel," he said.
He told the audience that other issues, which would have to be enshrined in negotiations with the Palestinian,s were assurances that a Palestinian state would be demilitarized and unable to smuggle in heavy weaponry such as rockets.
Another, he said, was recognition of Israel as a Jewish state, meaning that Palestinian refugees would have to settled in the Palestinian state and forego claims to return to homes in what is now Israel.
Netanyahu expressed his country's security concerns in talks with US Secretary of Defense Robert Gates before leaving Washington on Wednesday.
Among them, an Israeli official said, was the fear that once US troops leave Iraq, Israel could again face threats from the east for the first time in the past decade.
Former Iraqi president Saddam Hussein fired several Scud missiles into Israel during the first Gulf war, but the comment was also seen as a reference to Israel's wish to remain in the Jordan Valley as part of a final peace deal, with the Israeli military acting as a buffer between a Palestinian state and Jordan.
Comments will be moderated. Keep comments relevant to the article. Remarks containing abusive and obscene language, personal attacks of any kind or promotion will be removed and the user banned. Final decision will be at the discretion of the Taipei Times.