FEATURE : Cuban drag queens, from closet to the public stage
THE MIX In 1960s and 1970s Cuba, gays were usually thrown in jail because of their sexual orientation. Today, they can flaunt it, even in the city Che's troops liberated
For 23-year-old Charlimar it was a dream come true, gyrating like Latin pop star Shakira on an outdoor stage before 2,000 cheering people, in the first government-sanctioned drag show in the communist country.
Organized by the daughter of Cuban President Raul Castro, Mariela, the unprecedented show in the central city that revolutionary hero Ernesto "Che" Guevara conquered in 1958, drew stares and stopped traffic last Monday under the watchful gaze of local police.
"I've been a drag queen for three-and-a-half years, but it's hard to believe I've been blessed at such a young age when others waited much longer to see their dream come true," said fashion designer Dayan Marin, better known as the spandex-wearing Charlimar.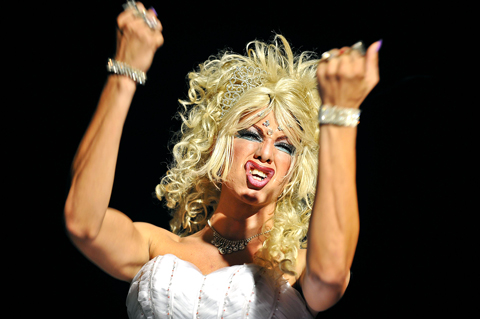 A Cuban transvestite performs on stage during a transvestite show in Santa Clara, Cuba, on May 17.
PHOTO: AFP
Iroshi Santos, a 22-year-old who goes by stage name Omega, predicted "this show will make history and people will start understanding us."
The closing attraction of International Day Against Homophobia, the drag show, was a far cry from 1960s and 1970s Cuba, where homosexuals were herded into reeducation camps.
"It's significant that today we should celebrate peacefully … all of us together spilling our good energy," said Mariela Castro, director of National Sexual Education Center, which sponsored the event.
The president's daughter is a fervent supporter of gay marriage and gay adoption. In January, she asked the ruling Communist Party to end gay discrimination within its ranks.
In all, 17 drag queens performed on the outdoor stage outside the "El Mejunje" (The Mix) cultural center, long known as the underground Mecca of Cuba's transvestites.
Gay pride flags and signs lined the street: "Don't let prejudice rule you," "Don't limit your freedom nor limit anybody else's freedom," some of them read.
A huge banner draping the front of a building proclaimed: "Homosexuality is not dangerous; homophobia is."
"It's wonderful that we can share the street with everybody … without rejection or ­discrimination," said 24-year-old hairdresser Lazaro Diaz, stage name Zulema Anderson, who is "eagerly looking forward" to having a sex-change operation.
The risky procedure has been legal and free of charge in Cuba since 2008, as long as the patient gets the green light from doctors and psychologists.
Ramon Silverio, who founded El Mejunje 26 years ago, was thrilled about the spectacle outside his clubhouse.
"There are people of all ages, all beliefs and orientations. The whole world is here, and that's really important," he said.
Not everyone was pleased, however.
"Making this a public spectacle is shameful. This is Che's city," said a woman who declined to give her name.
But Carlos, a 47-year-old nurse enjoying the show with his boyfriend of 10 years, Jose, saw nothing wrong.
"I'm gay, but I adore Che and I'm convinced a man like him would have accepted us," he said.
After seeing his dream come true, Charlimar is now working on another aspiration: Revealing his true sexual preference to his mom.
"It's my biggest wish, but I know it'll take time before she understands me," he said.
Comments will be moderated. Keep comments relevant to the article. Remarks containing abusive and obscene language, personal attacks of any kind or promotion will be removed and the user banned. Final decision will be at the discretion of the Taipei Times.