FEATURE : Shazam! Berlin museum takes new look at Jewish roots of favorite superheroes
If Superman had had his way, Hitler would have wound up begging for mercy before the League of Nations in Geneva in 1940, and there would never have been an Auschwitz.
A major new exhibition, which opened at Berlin's Jewish Museum, argues it was no coincidence that the biggest superheroes including Superman, Spiderman, Batman and the Hulk were all created by Jewish comic artists.
"Heroes, Freaks and Superrabbis — the Jewish Color of Comics" looks at 45 of the most successful comic creators, overwhelmingly children of European Jewish families who had emigrated to New York.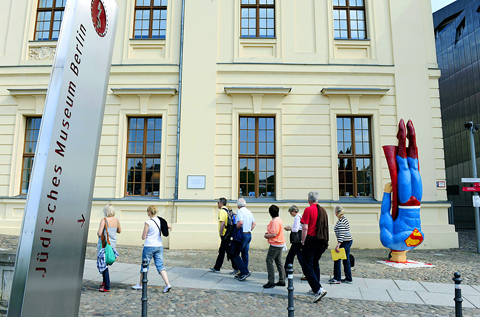 People walk past a Superman figure by German artist Marcus Wittmers in front of the Jewish Museum in Berlin, Germany, on April 30.
PHOTO: AFP
As comic books entered their golden age in the 1930s and 1940s, the most iconic superheroes were products of those troubled times, even taking on Adolf Hitler and his Nazi henchmen before the Americans did.
"The point of the exhibition isn't to say comics are a Jewish speciality," said Anne Helene Hoog, one of the curators. "Rather, it looks at the question why so many Jews became comic artists, and what issues preoccupied them."
In February 1940, nearly two years before Pearl Harbor, How Superman Would End the War by Jerry Siegel and Joe Shuster has the Man of Steel making quick work of the diminutive Nazi leader.
"I'd like to land a strictly non-Aryan sock on your jaw, but there's no time for that!" Superman tells a groveling Hitler as he dispatches him to Switzerland to face justice, along with Stalin to boot.
A month later, Jack Kirby (born Jacob Kurtzberg) and Joe Simon's Captain America thwarts a Nazi plot to invade the US with a wallop to the Fuehrer's nose in a legendary cover sketch.
Hoog said the superheroes were often depicted, like their artists, as outsiders who, with an immigrant's deep patriotism, battle to save their adopted home country from an outside threat.
That image resonated powerfully at a time when the world appeared to be falling apart, Hoog said.
"In light of the failure of democracy in Europe, it was clear that young people — particularly the children of immigrants, poor people, refugees — confronted with misery, fear, violence, injustice and finally extermination, were alarmed by what was happening in the world," she said.
"In the 1930s, there was a deep need for superheroes," she added, and Jewish artists were happy to oblige.
Although none of the major superheroes were overtly Jewish, their heroic journeys were often steeped in Old Testament imagery, noted Jewish Museum program director Cilly Kugelmann.
"Like Moses, Superman was discovered as an apparently abandoned baby and raised by the people who found him," she said, adding that the character also had roots in Greek mythology, Germanic tales and the story of Jesus Christ.
Even "Shazam," the magic word that turns young Billy Batson into 1970s-era Captain Marvel, had quasi-Jewish roots. The word is an acronym for the legendary heroes who inspire him and the first letter, "S," stands for wise King Solomon of Israel.
Many of the comic artists worked as paper boys when they were young in the 1920s, selling newspapers amid the tenements on New York's Lower East Side, where their love for the "funnies" was born.
After the war, with time Jewish graphic novelists began confronting the Holocaust, tentatively at first, and culminating in the harrowing Pulitzer-prize-winning Maus series by Art Spiegelman.
In the two volumes published in 1986 and 1991, Spiegelman tells the story of his Shoah-survivor father, a Polish-born Jew, and the author's own feelings of guilt and rage toward him as he was growing up. With his literary ambition, Spiegelman revolutionized the genre.
Comics also accompanied the counterculture movement of the 1960s, with Mad magazine and subversive "comix" by Jewish women such as Trina Roberts and Aline Kominsky-Crumb.
Hoog said a current of irony runs through many of the works, highlighting Steve Sheinkin's The Adventures of Rabbi Harvey and Rabbi Harvey Rides Again about a Jewish cleric superhero in the Wild West.
Punctuating the point, a caped Superman statue outside the museum shows him crashed into the pavement, with Krypton blood trickling from his head. The sculpture is called Even Superheroes Have Bad Days.
Comments will be moderated. Keep comments relevant to the article. Remarks containing abusive and obscene language, personal attacks of any kind or promotion will be removed and the user banned. Final decision will be at the discretion of the Taipei Times.