Two killed in Mexican ambush
MASKED YOUTHS People released after the caravan came under attack say the gunmen were about 20 years old and claimed allegiance to a local tribal group
An undetermined number of foreigners and Mexican activists were missing after gunmen attacked a caravan of rights observers and leftists near a restive town in southern Mexico, killing a Finn and a Mexican.
Human rights groups said late on Wednesday that an Italian man and a Belgian man were still unaccounted for more than 24 hours after the ambush on Tuesday near the remote Triqui Indian mountain town of San Juan Copala, in southern Oaxaca state. Authorities from those European countries had yet to confirm whether any of their citizens were missing.
The National Network of Human Rights Civic Organizations said another Finn, three Mexicans and two journalists from the Mexican magazine Contralinea were also missing, though information was sketchy because of difficulty getting news from the town.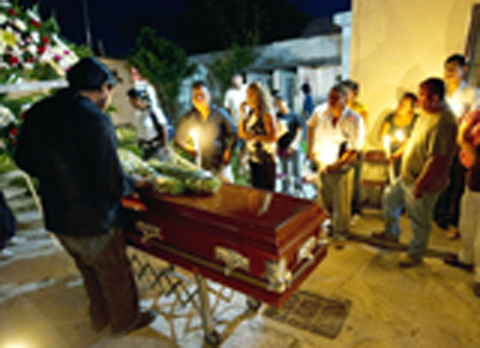 Relatives and friends of Mexican Alberta Cari pray before his coffin in Huajuapan de Leon, Oaxaca State, Mexico, on Wednesday. He was killed when masked gunmen ambushed three vehicles carrying foreign human rights activists and journalists.
PHOTO: AFP
The area is so remote and conflict-ridden that Oaxaca state police had a hard time getting in to recover the bodies, which they finally did on Wednesday.
Photos from the scene showed a bullet-ridden sport utility vehicle on a dirt road, and the body of Jyri Antero Jaakkola, a 33-year-old Finn affiliated with Uusi Tuuli, a non-governmental organization. He appeared to have been shot in the head.
The bodies of the Mexican activist killed, Beatriz Carino Trujillo, and Jaakkola were taken to a nearby city for autopsies.
San Juan Copala has been the scene of a long-running dispute between a leftist group demanding greater local autonomy and militants with links to Oaxaca state's ruling party.
An eyewitness said the roughly 40 people traveling in the caravan abandoned their vehicles and scattered when masked gunmen opened fire from a hillside.
"They started to spray us with bullets," said Gabriela Jimenez Ramirez of Oaxaca city, who was traveling in the caravan inside an SUV with a dozen people, including the two dead.
"Trying to back up, they blew out the tires of the vehicle. We threw ourselves on the floor. The vehicle was shaking because there were bursts of gunfire," he said.
Jimenez is a prominent representative in the radical movement known as the People's Assembly of Oaxaca (APPO), which seized control of Oaxaca for almost five months in 2006 to push for the ouster of Governor Ulises Ruiz.
The caravan also included members of a militant local section of the National Teachers Workers Union and other leftist civic and aid groups sympathetic to APPO.
The UN's Human Rights Commissioner's Office in Mexico expressed concern about the attack and urged authorities to find the missing people.
Calling for an investigation, the office said it was particularly concerned by the fact there were human rights workers and journalists in the caravan.
San Juan Copala has reportedly been surrounded by armed opponents of the local movement for greater autonomy from state and federal authorities, and the group was headed there on an unofficial mission to monitor the situation.
The roots of the territorial conflict at San Juan Copala date back decades, and permanent police facilities had been withdrawn to avoid inflaming hostilities, leading to the long delay for the arrival of state police.
Although Jimenez was released by masked gunmen, she said she saw others led away at gunpoint.
She said her captors claimed affiliation with Unity for the Social Well-being of the Triqui Region and the allied Movement of Unification for the Triqui People, groups with ties to state authorities allegedly pressuring the local autonomy movement.
"They were youths who were more than 20-year-olds, wearing masks," she said. "They showed us their guns ... They told us they were the ones in charge in the area."
The leader of the Movement of Unification for the Triqui People issued a firm denial.
"We aren't responsible," Heriberto Pazos Ortiz said. "I hope the organizations that are talking about these violent events do it with honesty and don't make wild accusations."
A member of the caravan named Monica Citlalli Santiago was lightly wounded by a bullet. She refused to talk to state authorities or the press about what happened.
Contralinea reporter Erika Ramirez and photographer David Cilia were accompanying the caravan to report on conditions in San Juan Copala. Directors of the magazine were traveling to Oaxaca from Mexico City after learning the journalists were missing.
"We are really very distressed as we wait for more information," magazine representative Nancy Flores said.
Finnish Ambassador to Mexico Ulla Vaisto urged that those responsible for Jaakkola's death be brought to justice.
His group, Uusi Tuuli, promotes "international solidarity, fair international economic arrangements, peace and mutual understanding between people and nations," its Web site says.
Comments will be moderated. Keep comments relevant to the article. Remarks containing abusive and obscene language, personal attacks of any kind or promotion will be removed and the user banned. Final decision will be at the discretion of the Taipei Times.