Egyptian court convicts 26 members of Hezbollah cell
An Egyptian court on Wednesday convicted 26 men of belonging to a Hezbollah cell that was charged with planning to attack Israeli tourists, fire on ships passing through the Suez Canal and smuggle weapons, supplies and people through tunnels to the Gaza Strip.
The men's sentences ranged from life in prison to six months in jail. Prosecutors had asked for the death penalty for several defendants, including Muhammad Youssef Mansour, also known as Sami Shehab, who had been sent by Hezbollah to set up the cell in Egypt.
The decision not to issue death sentences was seen as a calculated effort by Egypt to avoid inflaming relations with Syria, a prime sponsor of Hezbollah, a militant, social and political organization in Lebanon, regional experts said. Egypt and Syria have been at odds for several years over the handling of the Palestinian crisis and over Syria's relations with Iran.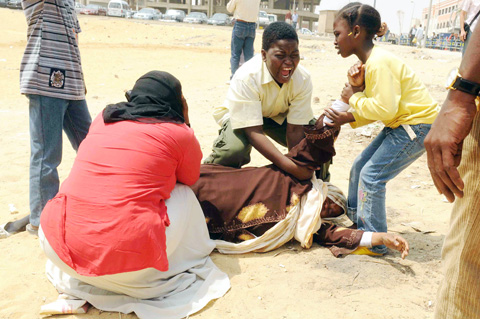 The son and daughter of Hezbollah member Khater Abdullah Mokhtar help their mother, who collapsed after learning of her husband's jail term, following his trial on the outskirts of Cairo on Wednesday.
PHOTO: AFP
"This is a sign of an Egypt that is interested in de-escalating and finding moderate solutions for an issue that loomed very big in the background in its relations with Syria and Lebanon," said Amr Hamzawy, regional director for the Carnegie Endowment for International Peace in Beirut.
The case against the group arose as relations between Egypt and the Hezbollah chief, Hassan Nasrallah, grew extremely heated. Nasrallah had criticized Egyptian President Hosni Mubarak, saying that Egypt was not doing enough to aid the Palestinians during the Israeli offensive in the Gaza Strip in late 2008. Nasrallah effectively called for a popular uprising against the president, while Egypt accused Hezbollah of being a proxy for Iran.
Nasrallah acknowledged setting up the group in Egypt but insisted that it was organized only to help the Palestinians, not to conduct terrorist attacks on Egyptian soil. Mansour's lawyers had said that their client had proposed attacks in Egypt but that Nasrallah had rejected that plan.
In court on Wednesday, the judge, Adel Abdul Salam Gomaa, dismissed the defense's claim.
"Is targeting ships in the canal support for the Palestinian cause?" the judge asked as he read the verdict. "Is preparing explosives and targeting tourist resorts support for the Palestinians?"
Comments will be moderated. Keep comments relevant to the article. Remarks containing abusive and obscene language, personal attacks of any kind or promotion will be removed and the user banned. Final decision will be at the discretion of the Taipei Times.