'Red Shirts' ask EU to help end crisis
COLOR CLASH The return of the 'Yellow' faction to street protests increases the volatility of the situation. They want the Thai government to end the 'anarchy'
Thailand's "Red Shirt" protesters yesterday tried to put international pressure on their government by asking the EU to send observers to monitor further crackdowns by the army.
A day after violent clashes on Bangkok's streets between demonstrators and troops left one soldier dead and 18 people injured, the Red Shirts asked the EU delegation in Bangkok for help in the crisis.
"The government used force to crack down on innocent protesters, and it's likely there will be further violent crackdowns," senior Red Shirt Jaran Ditsatapichai said on a stage at the movement's main demonstration site.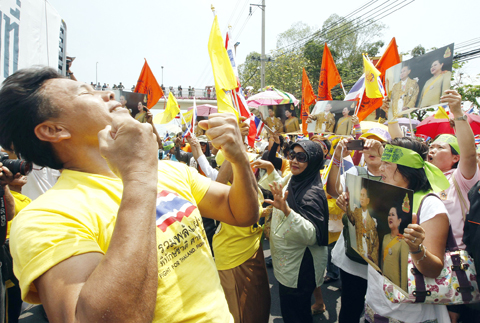 Pro-government "Yellow Shirt" demonstrators sing during a rally in Bangkok yesterday calling on the government to disperse the "Red Shirt" encampment in the city.
PHOTO: REUTERS
The Reds Shirts — who have demanded the resignation of Thai Prime Minister Abhisit Vejjajiva's government — sent a letter to EU ambassador David Lipman with an "urgent request" to send monitors to Bangkok to prevent another crackdown.
The ambassador met the protesters briefly and called for a peaceful, negotiated solution to the crisis, an EU statement said.
The meeting followed last week's invitation by Red Shirt leaders to Bangkok's diplomatic community to visit their protest site, prompting a rejection from Thai Foreign Minister Kasit Piromya yesterday of any foreign help.
"There is no need for international intervention at this point in time," Kasit told a press conference during a visit to Jakarta, Indonesia.
"We're very much in control of the situation and it's still very much an internal affair of Thailand," he said, adding that the government was "concerned" that some diplomats had visited protesters, but did not specify who.
"We do not want to see that happening again," Kasit said.
He said he had earlier met with the Philippine ambassador, the dean of the Bangkok diplomatic corps, to express his concern.
In Washington, US State Department spokesman P.J. Crowley told reporters on Wednesday that US diplomats are "intensively engaged in discussions" with Thai government officials and with opposition forces.
"Our message remains what it has been since this situation evolved, which is to peacefully resolve the situation," he said.
Many of the Red Shirts come from Thailand's rural poor and urban working classes and seek the return of former Thai prime minister Thaksin Shinawatra, who was ousted in a 2006 coup and now lives overseas to avoid a jail term for corruption.
The kingdom is largely split between the Red Shirts and the pro-government Yellow Shirts.
About 1,000 Yellow Shirts gathered yesterday outside an army base in Bangkok where Abhisit and his Cabinet have been working since demonstrations began last month.
The Yellow Shirts demanded the government and army get tougher on Red Shirt demonstrators and impose martial law in Bangkok.
Amid fears of factional violence between the two camps, the Yellow Shirts said they held similar rallies yesterday at more than 40 army bases across the country, demanding an end to "anarchy" in the capital.
The re-emergence of the Yellow Shirts — best known for shutting Bangkok's two airports for a week in 2008 — added to the volatility on the streets of Bangkok, where a seven-week standoff has killed at least 27 people and wounded nearly 1,000.
Comments will be moderated. Keep comments relevant to the article. Remarks containing abusive and obscene language, personal attacks of any kind or promotion will be removed and the user banned. Final decision will be at the discretion of the Taipei Times.