ANALYSIS : What a difference a year makes to Japan-US alliance
When he took office, US President Barack Obama moved quickly to show his commitment to Japan. He welcomed its then-prime minister as his first White House guest and Hillary Clinton made the Asian ally her first destination as US secretary of state.
What a difference a year makes.
When Japanese Prime Minister Yukio Hatoyama visited Washington last week for a summit on nuclear security, his face-time with Obama consisted of approaching him at a dinner when the president asked guests to enjoy the food before discussions.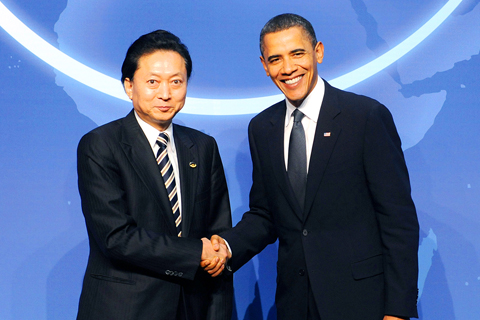 US President Barack Obama, right, welcomes Japanese Prime Minister Yukio Hatoyama to a Nuclear Security Summit at the Washington Convention Center in Washington on Monday last week.
PHOTO: EPA
Diplomats said the 10-minute encounter consisted mostly of Hatoyama telling Obama that he was still making a decision on the Futenma air base, which some of the prime minister's left-leaning supporters want off Okinawa.
US officials have publicly said they are willing to consider Hatoyama's ideas. Privately, many are exasperated that Japan has not put any concrete proposal on the table on a dispute that has been building for months.
Still, advocates for the half-century alliance have voiced alarm that tensions are becoming so visible. Nuclear security is an issue close to Japan's heart and Obama found the time to meet 13 other leaders on the summit sidelines, including Chinese President Hu Jintao (胡錦濤).
"I found it absolutely shocking that the two countries couldn't find a way to arrange a meeting," said George Packard, president of the US-Japan Foundation.
US Senator Jim Webb, who heads the Senate Foreign Relations Subcommittee on East Asia, said that while it was understandable to focus on a rising China, it was vital to keep emphasizing the importance of the alliance with Japan.
The strategy is "kind of like birth control. If you cease taking the proper precautions, the possibility of an incident is elevated," said Webb, a member of Obama's Democratic Party from Virginia.
The US stations 47,000 troops in Japan, part of an alliance reached after World War II when Tokyo was stripped of its right to maintain a military.
Hatoyama, whose coalition swept out the long-entrenched conservatives in elections in August last year, pledged in his campaign to review a 2006 agreement in which the US would move 8,000 troops to Guam.
Under the deal, the Futenma air base would shift from an urban area, where it has long been a source of grievance, to a quiet part of Okinawa.
Some of Hatoyama's supporters, however, want the base out of Okinawa entirely. Hatoyama has pledged to make a decision by the end of next month.
Weston Konishi, a Japan expert at the Mansfield Foundation think tank, said that while US officials have not always been delicate on the Futenma issue, the Hatoyama government also had itself to blame for "self-marginalization."
"American officials are well aware that things move at a glacial pace in Japan and that's why they gave some slack to the new government after they took power, but there have been some very mixed signals that have emanated from Tokyo that have frustrated the American side," Konishi said. "I think the president and some policymakers have now in a way written Japan off — not on everything, but the leadership coming from Tokyo on a number of key global issues has been mixed."
Hatoyama has insisted that the US alliance remains the "bedrock" for Japan's security, but Packard, a former assistant to the US ambassador in Japan, said it was not realistic to expect the alliance to continue unchanged forever.
The original treaty was negotiated between "a victor and an occupied nation, not between two sovereign states, and every Japanese voter knows that," Packard said.
Some Japanese view the Status of Forces Agreement, under which the US is under no obligation to hand over troops suspected of wrongdoing, as "an extension of the extraterritorial arrangements that characterized Western imperialism in Asia in the 19th century," Packard said.
"It is only natural that a new generation of Japanese who did not live through the Cold War will increasingly question why they should put up with foreign troops in bases on their soil," Packard said. "The US has reduced its military footprint in South Korea, Germany and the Philippines, and it should not be surprising that a new generation of Japanese is growing restive."
Comments will be moderated. Keep comments relevant to the article. Remarks containing abusive and obscene language, personal attacks of any kind or promotion will be removed and the user banned. Final decision will be at the discretion of the Taipei Times.