Support for Japan government drops further
SLIM PICKINGS A survey revealed yesterday that Japan's main parties would each garner less than 20 percent of the vote
Support for Japanese Prime Minister Yukio Hatoyama's government has sunk to 23.7 percent, a poll by Jiji news agency showed yesterday, threatening his Democratic Party's chances of winning a midyear election.
Voters have been disillusioned by financial scandals enveloping the party's No.2 executive Ichiro Ozawa and other Democrats, and by Hatoyama's perceived lack of leadership on a range of issues.
A poor showing in the election for parliament's upper house, expected in July or August, could result in a policy deadlock as the country struggles to nurture a fragile economic recovery and rein in its massive public debt.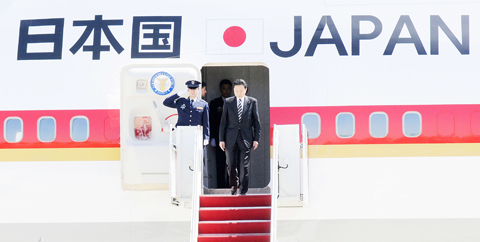 Japanese Prime Minister Yukio Hatoyama arrives at Andrews Air Force Base in Maryland on Monday.
PHOTO: REUTERS
The Jiji survey also showed that 17.7 percent plan to vote for the ruling Democratic Party in the upper house election, down 3.4 points from the previous month's survey, against 16.8 percent who opted for the main opposition Liberal Democratic Party.
Opinion polls by Jiji, conducted through face-to-face interviews, tend to show support at about 5 to 10 percentage points lower compared with other polls, which are done by telephone.
Hatoyama's government boasted support rates of about 70 percent when he took power after a landslide victory in the more powerful lower house of parliament last year.
But recent polls by television networks show support has been languishing just above or below 30 percent.
Comments will be moderated. Keep comments relevant to the article. Remarks containing abusive and obscene language, personal attacks of any kind or promotion will be removed and the user banned. Final decision will be at the discretion of the Taipei Times.