Argentina takes on probe in support of Spanish judge
Argentine human rights groups are turning the tables on Spain, hoping to open a judicial probe of murders and disappearances committed during the Spanish Civil War and the long dictatorship of General Francisco Franco.
Lawyers representing Argentine relatives of three Spaniards killed during the 1936 to 1939 war were to ask the federal courts in Buenos Aires yesterday to open an investigation, and hope to add many more cases in the months to come.
Such cross-border human rights probes have long been the specialty of Spain's crusading investigative judge Baltazar Garzon, whose case against Chilean General Augusto Pinochet helped lead to the undoing of amnesties that had protected Latin America's dictators.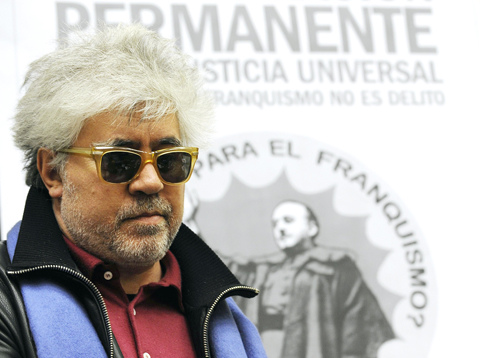 Spanish film director Pedro Almodovar attends a press conference in Madrid, Spain, on Monday to vindicate the right to judge General Francisco Franco's dictatorship and to support Spanish judge Baltazar Garzon.
PHOTO: AFP
However, Garzon himself now faces the prospect of a career-ending judicial investigation for allegedly abusing his authority by opening an investigation into deaths and disappearances in Franco's Spain.
Garzon's supporters now hope to launch the same investigation, citing the same principles of international law — from Buenos Aires.
"We have many hopes for this case," said Santiago Macias, vice president of Spain's Association for the Recuperation of Historic Memory, which helps Spaniards search common graves for anti-Franco victims of the civil war and dictatorship.
Attorney Carlos Slepoy, a specialist in human rights law, said the plaintiffs are invoking the principle of universal jurisdiction, which provides that genocide and crimes against humanity "can be prosecuted by the courts of any country."
"It's a shame that in democracy we have to seek Argentine justice, the justice system of another country, to investigate an issue that in our supposedly strong democracy we haven't been able to do," Macias said before joining the group in Buenos Aires.
"The same thing happened in Argentina when Spanish justice was the first to throw down the glove" in investigating human rights crimes committed during Argentina's 1976 to 1983 dictatorship, Macias said.
In that effort, Garzon charged various Argentine military figures with repression.
Now Garzon is accused of abuse of power in Spain by ignoring a 1977 amnesty law, which was passed to help Spaniards put decades of conflict behind them. Garzon, who said as many as 114,000 people were "disappeared" or buried in common graves, had to abandon his investigation after a few months.
The three cases presented in Argentina yesterday were the civil war shooting deaths of Spanish citizens Severino Rivas, Elias Garcia Holgado and Luis Garcia Holgado. The plaintiffs, both Argentines, were Dario Rivas, son of the first victim, and Ines Garcia Holgado, the granddaughter and niece of the others.
Comments will be moderated. Keep comments relevant to the article. Remarks containing abusive and obscene language, personal attacks of any kind or promotion will be removed and the user banned. Final decision will be at the discretion of the Taipei Times.