Nine dead after landslide derails train in north Italy
A landslide swept a passenger train off the rails in mountainous northern Italy on Monday, killing nine people and injuring 28, and leaving one car dangling precariously over the Adige river.
The regional three-carriage train came off the rails at around 9am when the landslide hit the front passenger car near the city of Bolzano, a rescue official said.
Seven seriously injured people were hospitalized.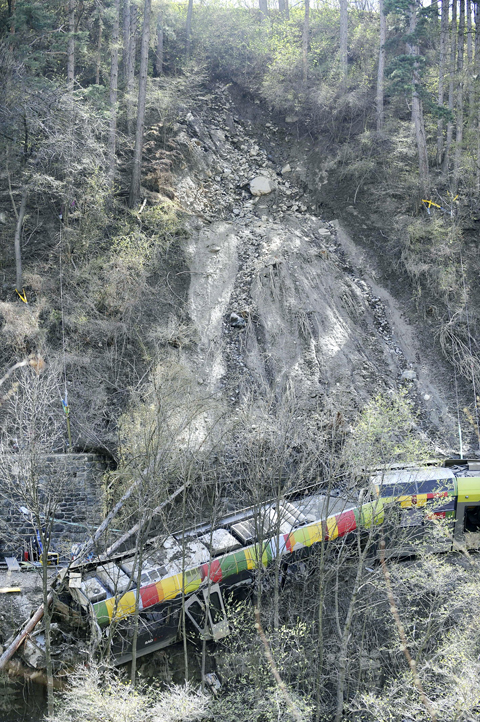 A passenger train lies at the base of a landslide in mountains between Laces and Castebello, Italy, yesterday. Nine people were killed and 28 injured, seven seriously.
PHOTO: AFP
The toll, which was revised down from 11 because of an error, is not final, since "there could still be someone buried in the mud," said Bolzano provincial governor Luis Durnwalder, quoted by the ANSA news agency.
Another train had passed in the other direction without incident just two minutes before the landslide struck in the rugged mountain area, he said.
"The operation posed immediate difficulties given that the first car was dangling between the rails and the Adige River ... and the second was invaded by mud and debris," he added.
The front car of the train lodged between two large trees, which stopped it from falling into the river below between the towns of Laces and Castelbello.
The wagon was left hanging precariously over the river and firefighters used cables to prevent it from slipping further down the mountainside.
Rescue workers had to climb up from the forested riverbank to reach the train, comprising a passenger carriage at each end and a locomotive in the middle.
About 400m3 of mud covered around 15m of track, said local geologist, Ludwig Noessing.
A field hospital was set up nearby, media reports said.
A preliminary investigation showed the landslide was caused by a broken irrigation pipe in a field above the rails, "drenching the terrain below," a provincial spokesman told Italian television.
The railway line, inaugurated in 2005, is considered one of the most modern in the country.
Comments will be moderated. Keep comments relevant to the article. Remarks containing abusive and obscene language, personal attacks of any kind or promotion will be removed and the user banned. Final decision will be at the discretion of the Taipei Times.