Xi, Akihito meet ruffles feathers
PALACE POLITICS The prime minister pushed the Imperial Household to arrange the meeting, although Akihito's diary is usually set well in advance
Critics are fuming over allegations that Japan's new government pressured the Imperial Palace into hastily arranging a meeting yesterday between Emperor Akihito and Chinese Vice President Xi Jinping (習近平) to curry favor with Beijing.
It is not unusual for Akihito to grant audiences to foreign dignitaries. The meetings are carefully orchestrated and planned well in advance to avoid hints of favoritism or the appearance of political undertones beyond the accepted status of the emperor as a ceremonial head of state.
But the government's last minute decision to have Akihito meet Xi, a rising star in China's leadership, was seen by many as stepping over the line between politics and the palace in an attempt by the new administration to score a diplomatic coup with Beijing.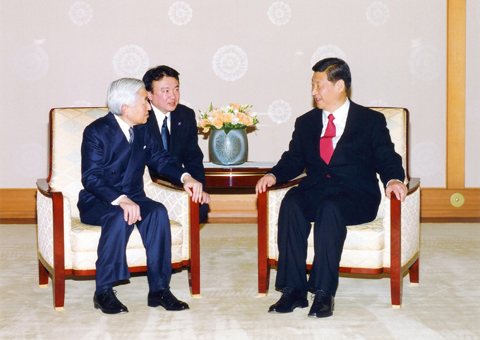 Japanese Emperor Akihito, left, talks with Chinese Vice President Xi Jinping, right, at the Imperial Palace in Tokyo yesterday.
PHOTO: REUTERS/IMPERIAL HOUSEHOLD AGENCY OF JAPAN
Prime Minister Yukio Hatoyama, who took office in September, has stressed that he intends to improve Tokyo's ties with China. Last week, a high-profile delegation of more than 100 lawmakers from Hatoyama's Democratic Party met Chinese President Hu Jintao (胡錦濤) in Beijing.
Hatoyama's opponents say the imperial audience, which lasted about 20 minutes, was arranged to return the favor and that normal rules were bent to make it happen.
"I am very angry," former prime minister Shinzo Abe, a leading member of the Liberal Democratic Party (LDP), said on Monday.
Abe noted that the emperor, who turns 76 this month, has reduced his official duties for health reasons, and said the meeting was an unnecessary burden on him.
"We can't allow the emperor to be used for political purposes," he said.
Other opposition leaders also used the meeting to slam Hatoyama's judgment but the government denied the meeting was anything more than a courtesy.
Imperial Household Agency head Shingo Haketa told reporters last week that Hatoyama pushed the palace to set up the meeting on short notice, although audiences with the emperor normally require a month's advance arrangements.
Comments will be moderated. Keep comments relevant to the article. Remarks containing abusive and obscene language, personal attacks of any kind or promotion will be removed and the user banned. Final decision will be at the discretion of the Taipei Times.