FEATURE : Ethiopian Jews in Israel still await promised land
NOT YET AT HOME More than 120,000 Ethiopian Jews live in Israel, 80,000 of whom were born in Africa. Many still feel that they are treated as second-class citizens
The ancient hymns brought tears to the eyes of Solomon Ayeli, as well as memories of his native Ethiopia which he left two decades ago for Israel — a country he loves, but where he often feels rejected.
"There should be no differences between black Jews and white Jews," said Ayeli, 29, who was among 15,000 people who last week celebrated the Ethiopian-Jewish Sigd — prostration — festival in Jerusalem.
"We want to be fully fledged Israelis," he said, as priests intoned prayers in Ethiopia's ancient scriptural language Geez. "We want to fully belong to Israeli society which often rejects us."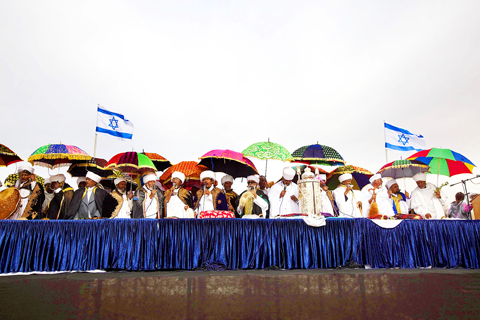 Ethiopian Jewish community leaders recite prayers during the Sigd festival in Jerusalem on Monday. Sigd, the holiday of return and longing, is held 50 days after Yom Kippur. Prior to their immigration to Israel, the Jewish community in Ethiopia observed Sigd in their villages, praying to return to Jerusalem. Today, Sigd is celebrated in the holy city with thousands of Ethiopians from all over Israel gathering to pray together.
PHOTO: AFP
In spite of everything, Ayeli, like many members of the Ethiopian Jewish community — known as Beta Israel — says his journey to the Holy Land was the fulfilment of a dream. "Living here is an exceptional opportunity," he said.
But the cost was high.
"I lost 10 family members in the desert, on the way to Israel," says Ayeli, who had to walk for days through Sudan on his way to Israel when he was 10.
Separated during centuries from other Jewish communities, the Beta Israel were only recognized as Jews by Israel's chief rabbis in 1975.
The recognition was crucial, as Aliyah — the Israeli law of return — allows any Jew to settle in Israel and get citizenship. Israel airlifted in 35,000 Ethiopian Jews under Operation Moses in 1984, at the height of a killer famine in the Horn of Africa, and during the 1991 Operation Solomon.
Today, there are more than 120,000 Ethiopian Jews in Israel, 80,000 of whom were born in Africa.
Many feel they are still treated like second-class citizens.
A recent study showed that 53 percent of employers preferred not to hire Ethiopians, who nevertheless still fared better than Arabs with an 83 percent rejection rate.
The study also found that 70 percent of employers tended not to promote Ethiopians.
Israel's Association for Civil Rights says employment rates within the Ethiopian community were 10 percent lower than for the rest of the population last year.
Official figures show that last year high school completion was only 36 percent among students of Ethiopian origin as compared with 55 percent for other Israelis.
In September, ultra-Orthodox schools in Petah Tikva, near Tel Aviv, caused a public uproar when they initially refused to accept children of Ethiopian descent, although they eventually accepted some of the applicants.
But there are some success stories.
Last year, the Israeli parliament passed legislation making it mandatory for schools to teach the traditions of Ethiopian Jews. And for the first time, the state this year financed the Jerusalem celebrations of Sigd.
"We are at the beginning of a path that will lead us towards full integration into Israeli society," said Shlomo Mola, a member of parliament of Ethiopian origin.
The Sigd celebration brought together a large sample of the Beta Israel community — youths sporting scarves in Ethiopian colors, women in traditional white outfits and Israeli soldiers chatting in Amharic, Ethiopia's main official language.
"We want to present a different image of our community, which has produced doctors, scientists and deputies," said Mola, one of only three Israelis of Ethiopian origin to have won election to parliament.
Nigist Mengesha, who heads the Ethiopian National Project community group, admits it is not easy to merge into Israeli society while keeping Ethiopian traditions.
"But after 25 years, it's time we should be integral part of the state of Israel," he said.
Comments will be moderated. Keep comments relevant to the article. Remarks containing abusive and obscene language, personal attacks of any kind or promotion will be removed and the user banned. Final decision will be at the discretion of the Taipei Times.