Napolitano opens cyber crime watch center
The US is well behind the curve in the fight against computer criminals, Senator Joe Lieberman said on Friday, as Homeland Security officials opened a US$9 million operations center to better coordinate the government's response to cyber attacks.
Lieberman, chairman of the Senate Homeland Security and Government Affairs Committee, said legislation being drafted by his committee would require federal agencies and private companies to set up a system to share information on cyber threats.
Lieberman, an independent, said the Homeland Security Department must identify weaknesses in the systems that run power plants and other critical infrastructure.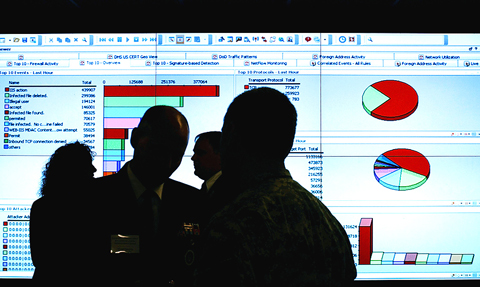 Staff members attend an event presided over by Homeland Security Secretary Janet Napolitano at the opening ceremony of the new US Computer Emergency Readiness Team/National Cybersecurity and Communications Integration Center facility in Arlington, Virginia, on Friday.
PHOTO: AFP
As Lieberman laid out his proposal to Chamber of Commerce executives, Homeland Security Secretary Janet Napolitano opened the new National Cybersecurity and Communications Integration Center in northern Virginia, near Washington.
Standing in front of a wall of broad video screens, that displayed vivid charts and maps of possible cyber threats and suspicious Internet traffic, Napolitano said the watch center would allow the high-tech teams that monitor government networks to work together better.
With 61 computer stations spread across the room, the center will merge the US Computer Emergency Readiness Team and the National Coordinating Center for Telecommunications.
US officials have said that government computer systems are probed or scanned millions of times a day and face an increasing threat from hackers, cyber criminals looking to steal money or information and nation-states for espionage or the destruction of networks that run vital services.
Officials have urged a more coordinated effort by the federal government to monitor and protect US systems and work with the private sector to insure that transportation systems, energy plants and other sensitive networks are equally protected.
Napolitano told a crowd of federal workers and others at the new watch center that consolidating the cyber efforts will improve the government's ability to counter threats. Over time, the center, which will operate 24 hours a day, will also include the National Cybersecurity Center, which coordinates operations among the six largest federal cyber centers, the DHS Office of Intelligence and Analysis, and representatives from the private sector.
US President Barack Obama has declared computer security a priority, but he has been struggling for several months to appoint a new cyber coordinator. Several executives have turned it down, while critics and cyber experts say it is a nearly impossible job to fill.
White House spokesman Nick Shapiro said Obama is "personally committed to finding the right person for this job and a rigorous selection process is well under way."
Comments will be moderated. Keep comments relevant to the article. Remarks containing abusive and obscene language, personal attacks of any kind or promotion will be removed and the user banned. Final decision will be at the discretion of the Taipei Times.