Aid groups target Sumatra's traumatized kids
More than a week after he was pulled from his family's collapsing home, three-year-old Vahrasya Clausatio has seldom strayed far from his mother's arms.
Like many child survivors of the huge earthquake on Sumatra island on Sept. 30, Vahrasya has been left traumatized by a disaster that the UN says killed upwards of 1,100 people.
As international aid pours in and authorities clean up buildings shattered in the quake, a small number of relief groups are working to repair widespread shock before it sets in and becomes lasting psychological damage.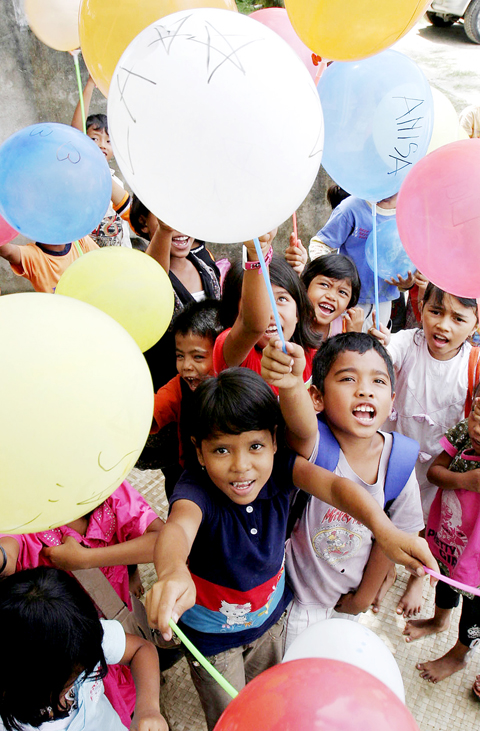 Children play with balloons during a trauma healing exercise organized by the Indonesian Red Cross in the village of Lubuk Pandan, Indonesia, yesterday.
PHOTO: REUTERS
In this village outside the quake-hit city of Padang, one such group, the Ananda Marga Universal Relief Team, has set up a play area beside an intact warehouse.
With dolls, balls and paper for children to draw on — grim drawings are often a sign of trauma — the aim is to use play and socializing to get children out of their shells, said Christian Jung, a consultant from German non-governmental organization Kinder Not Hilfe.
Symptoms of trauma in children include nightmares, insomnia and unwillingness to be alone, Jung said.
"They [also] have really physical symptoms, like their heart is aching, they can't breathe properly," he said.
At the edge of the group, as other children played and his seven-year-old brother Roudhra drew a scene of a sunshine-bathed town underneath rolling hills, Vahrasya continued to hover distractedly in reach of his mother.
With purple ointment over wounds on the edge of his mouth, he sometimes roused to fiddle with a cardboard tube and offered the occasional smile, but rarely spoke.
"He can't be far away from me, he has to be close," said his mother, 32-year-old Felmi Yetti. "If I'm not by his side while he sleeps, he cries."
In the Sumatra quake, like many disasters, trauma is widespread as a result of basic psychological impulses, said Deepek Mostert, the director of Indonesian aid group TREST, which does psychological counseling in disaster areas.
"What happens with trauma is the reptilian brain keeps sending signals you're in a life and death situation," Mostert said, referring to the basic part of the brain that deals with flight-or-fight responses. "Right now it's like first aid work, people can't sleep, have nightmares, hyperactivity, just a general sense of intense fear that at any moment something will happen that will end your life, that's what they live with."
TREST has arrived for a three-and-a-half week program to hold sessions with hundreds of school children at a time in an effort to get them to overcome basic fears, such as entering buildings.
It is not only children that suffer psychological trauma from disasters such as earthquakes, however, said Harjeet Singh, of international NGO ActionAid. Up to 10 percent of disaster survivors, including adults, can show signs of post-traumatic stress disorder for as long as 12 months, Singh said.
"We went to another village yesterday where women said this is harvesting time, the crops are standing, they don't want to go to harvest their crops," he said.
While some groups are on the ground helping to deal with trauma, it often remains overlooked as international aid groups focus on food, medicine and reconstruction, he said.
"If you make people sit and give them food to eat and don't engage people in activities, that is the worst thing you can do," he said.
Comments will be moderated. Keep comments relevant to the article. Remarks containing abusive and obscene language, personal attacks of any kind or promotion will be removed and the user banned. Final decision will be at the discretion of the Taipei Times.