Central Beijing cleared for anniversary party
China's capital was wrapped in tight security and thick fog yesterday as police blocked off Tiananmen Square, the Forbidden City and other popular tourist landmarks ahead of a massive parade marking 60 years of communist rule.
Many tourist spots, hotels, restaurants and shops in central Beijing had already been closed ahead of today's celebrations, which are expected to rival last year's Olympic opening ceremony.
The Forbidden City and the Great Hall of the People were shut along with many businesses located on Changan Street, the major boulevard that runs east-west through the city, including the Raffles and Beijing hotels, supermarkets, Starbucks coffee shops, tiny mom-and-pop noodle stalls and tourist boutiques.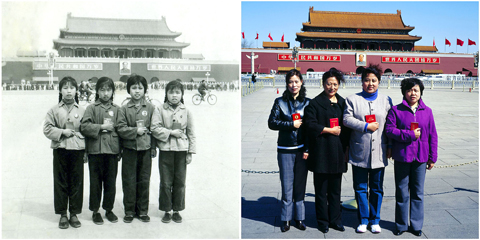 A combined photo shows four schoolmates posing at Tiananmen Square in Beijing in 1970, left, and posing for a photo at the same location this year. As part of a celebration and commemoration of 60 years of change in communist China called "See you again, Tiananmen," photographer Hei Ming recreated people's snapshots at their country's spiritual heart, decades after the originals were taken. The subjects posed in the same place, at the same time of day, and same position, when they could, as years earlier.
PHOTO: REUTERS
Armed pairs of helmeted SWAT police stood guard beside armored vehicles at many intersections along Changan, while underground, subway riders passed through metal detectors and had their bags scanned.
State media said most of the subway stations in the Tiananmen area were to be closed late yesterday or early today.
A heavy fog lay over the city — threatening to diminish the planned fighter jet flyovers and fireworks display. The official Xinhua news agency quoted the Beijing Meteorological Station as saying 18 planes were on standby to clear the air with cloud-seeding, which is believed to induce rain showers, if it was deemed necessary.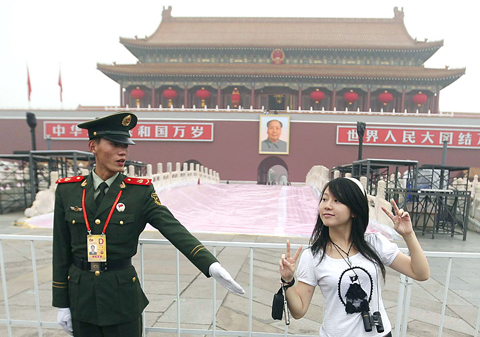 A soldier standing guard in front of Tiananmen Gate tells a woman to move as she poses for a souvenir photograph in Beijing yesterday.
PHOTO: EPA
Similar actions were undertaken last year during the Olympic Games, when Beijing fired off 1,100 silver iodide rockets to disperse rain on the eve of the opening ceremony. Chinese officials said the rockets succeeded in holding off a rain belt that threatened to reach the capital and drench the ceremony.
International scientists say there has never been proof that such methods produce results.
Rehearsals in the past few weeks have included jets and helicopters flying in formation over the city, releasing streams of red, blue and yellow smoke as they pass by.
Primarily a chance to showcase the country's might with a massive military parade, the celebrations are to include a "civilian parade" with about 100,000 people taking part and 60 floats. Tens of thousands of doves, 5,000 balloon-toting children and a chorus of thousands are to be part of the show, Xinhua said.
The scale of the event reflects strong nationalist feelings among many Chinese, who feel proud of the country's achievements since the People's Republic was founded in 1949 — a transformation from an impoverished, war-wracked country to an economic and diplomatic power.
Beijing resident Cui Jin, 65, said she felt the elaborate display of military power was an appropriate way to mark the anniversary.
"If we do not have a strong defense army or a very capable People's Army, how can we have peace and security?" she said.
Few other details have been given on the schedule for the celebrations, but a keynote address from President Hu Jintao (胡錦濤) is expected, followed by the two parades. Chinese filmmaker Zhang Yimou (張藝謀), who directed the opening and closing ceremonies for the Beijing Olympics, will oversee the evening fireworks display.
Comments will be moderated. Keep comments relevant to the article. Remarks containing abusive and obscene language, personal attacks of any kind or promotion will be removed and the user banned. Final decision will be at the discretion of the Taipei Times.