Film about Chinese civil war features all-star cast
China's staid cultural commissars are turning to the likes of Jackie Chan (成龍) and Jet Li (李連杰), hoping that an injection of star power into a state-funded movie about the communist revolution will attract young Chinese normally turned off by government propaganda.
The Founding of a Republic, which opens in two weeks, was commissioned to mark the 60th anniversary of the People's Republic on Oct. 1. In retelling the tale of communist triumph known to all Chinese, the movie's cast reads like a Who's Who of the Chinese film industry. Besides Chan and Li, there's Zhang Ziyi (章子怡) of Crouching Tiger, Hidden Dragon, Stephen Chow (周星馳) of Kung Fu Hustle and action picture director John Woo (吳宇森), among many others.
The inclusion of the stars — many of whom make nothing more than cameos — highlights the Communist Party propaganda czars' increasing recognition that to get the attention of the iPod-­toting, Nike-wearing set, they'll have to put out a slicker product.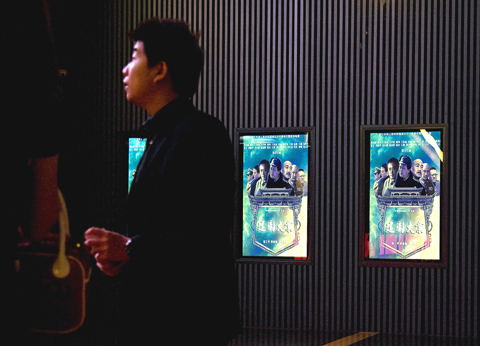 A man stands in front of posters of the upcoming movie The Founding of a Republic on display at a cinema in Beijing on Wednesday. The film opens in two weeks and is the centerpiece movie to celebrate China's 60th anniversary on Oct. 1.
PHOTO: AP
Not long ago, China's state-supported film and TV studios turned out exclusively predictable fare on tight budgets, often focusing on dowdy revolutionary heroes who were decidedly out of sync with the well-dressed singing idols and action stars coming out of trendsetting South Korea or Westernized Hong Kong. Chinese stars who made it in Hong Kong or Hollywood mostly kept the mainland industry at arm's length.
But as entertainment options have multiplied in China's booming economy — from big Hollywood releases to pirated DVDs to YouTube-style video-sharing Web sites — the Communist Party's Propaganda Department has been forced to adapt to get its message across to savvy youngsters normally disdainful of official media.
Meanwhile, ethnic Chinese filmmakers who made good abroad are sensing the huge potential of the mainland market — and know it's politically smart to get on board with the anniversary film to ensure future success.
While still small compared with the US, the Chinese box office is growing rapidly, fueled by a flurry of movie theater construction, surging more than 30 percent to 4.3 billion yuan (US$630 million) last year. US box office revenues reached nearly US$9.8 billion last year.
After 16 years in Hollywood, Woo returned to China two years ago to make the US$80 million two-part historical epic Red Cliff. Chan and Li's kung fu film The Forbidden Kingdom from last year was a US-Chinese co-­production shot in eastern China.
Oscar-­winning Taiwanese director Ang Lee (李安) agreed to edit a line in his 2007 spy thriller Lust, Caution to make it less obvious that a lead character helps a Chinese traitor in Japanese-occupied Shanghai — conforming with official sensibilities of patriotism.
The Founding of a Republic is unusual because it "combines the core of an 'ethically inspiring' film" — code for propaganda films — "and commercial packaging," said Gao Jun (高軍), deputy general manager of the New Film Association, one of China's top multiplex chains.
Gao said he and fellow theater owners expect a hit because its sheer celebrity power will help draw young viewers. But don't expect them to be wooed by the rhetoric, he said.
"They won't pay attention to anything else. They'll just be counting the stars," he said.
Already the film is generating buzz, but not all of it welcome.
An online debate has focused on whether some of the big stars had acquired foreign passports and were therefore unfit to appear in a patriotic movie. Farewell My Concubine director Chen Kaige (陳凱歌), who has a walk-on as an enemy general, was said to be a US citizen and Li a Singaporean.
Chen denied he had switched citizenship while at a film awards ceremony in Beijing last weekend. Without addressing his nationality directly, Li was quoted by Hong Kong's Wen Wei Po newspaper as saying recently, "no matter where I go, my heart will always remain in the motherland."
The Founding of a Republic was commissioned by the main film regulator and made by the powerful state-owned China Film Group, which is involved in most major productions in China and controls importing of foreign films. The movie will be released nationwide on Sept. 17 with 2,000 prints of the film, nearly one for every two of China's 4,100 screens.
Film Group chairman Han Sanping (韓三平), who co-directed with Huang Jianxin (黃建新), personally asked some of the celebrities to take part.
"Everyone has to show their respect if Grandpa San asks," said Woo's regular producing partner, Terence Chang (張家振), referring to Han by his nickname.
Hence, many of the stars in the movie worked for free, helping keep the movie's budget to a modest 60 million yuan to 70 million yuan, said China Film Group spokesman Weng Li (翁立).
But rumor has it that audiences will have to pay close attention to catch all of the appearances. The lead roles — like revolutionary leader Mao Zedong (毛澤東) — will be played by lesser known actors.
Chan plays an unnamed journalist, reportedly only delivering a few lines.
Crouching Tiger star Zhang Ziyi is an unidentified representative from the cultural sector. Woo's character shows up in one of the trailers but was left out of the final cut, producer Chang said.
Still, agents and representatives of the stars said it's enough to be seen.
"Every actor and every director will feel very honored if he or she could take part in this movie," said Huang Bin (黃斌), the agent for director Chen.
Comments will be moderated. Keep comments relevant to the article. Remarks containing abusive and obscene language, personal attacks of any kind or promotion will be removed and the user banned. Final decision will be at the discretion of the Taipei Times.