Hawaii celebrates 50th as a US state
Hawaii welcomed its entry as the 50th state with a new postage stamp on Friday, but independence supporters marked the day with passionate protests.
State leaders called Friday's events a statehood "commemoration" rather than a "celebration" out of respect to Native Hawaiians and their unresolved claims since the 1893 overthrow of the Hawaiian kingdom.
A few hundred Native Hawaiians marched through the street of downtown Honolulu with an effigy of a 4.5m Uncle Sam, a character seen as a symbol for the US government. They chanted in Hawaiian, blew on conch shells, waved ti plant leaves and yelled: "We are not Americans! We want our country back!"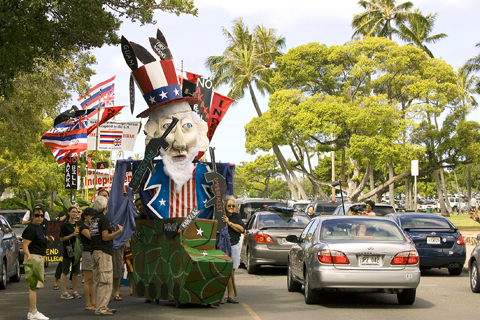 Activists march in Ala Moana Beach Park in Honolulu, Hawaii, on Friday, pushing an effigy of Uncle Sam during a Hawaiian independence protest. Hawaii commemorated the 50th anniversary of statehood on Friday.
PHOTO: AP
"Genocide" and "imperialist" were written across cardboard machine guns that some protesters carried.
At the end of the march, protesters knocked off Uncle Sam's hat, which contained a US flag from which they cut out a star that represented Hawaii. They held up the burning star to a crowd yelling "freedom."
"We were never the 50th state," said Kaleo Farias, one of protesters that cut the US flag. "It was an illusion, fabrication, something that was told to us that never happened … We're not part of the United States."
The events commemorating Hawaii's 1959 admission into the union have been light on flag-­waving and parades. Many events in Honolulu have focused on the state's economic future with panel discussions focused on tourism, alternative energy and Hawaiian rights.
Outside the state, however, Hawaii statehood was being marked as a cause for celebration with one of the more elaborate displays taking place on Friday in Times Square, New York City, where dancers dressed in traditional Hawaiian costumes and taught people how to Hula dance.
Inside the Hawaii Convention Center in Honolulu, the official statehood events highlighted Hawaii as a model for diversity while attempting to dispel misconceptions of the islands as an exotic location separate from the rest of the country.
Outside the convention center, protesters who would rather see Hawaii's independence restored staged a march and rally. They argue that Hawaii's statehood was never legal and that the islands should return to its status as a sovereign nation.
US President Barack Obama, who was born in the state, signed a proclamation marking the anniversary and said that in his youth he learned from Hawaii's diversity and how different cultures, blended together into one population, were made stronger by their shared sense of community.
The proclamation said: "The Aloha Spirit of Hawaii offers hope and opportunity for all Americans."
The postage stamp, available nationwide Friday, shows a painting of a longboard surfer and two paddlers in an outrigger canoe.
Comments will be moderated. Keep comments relevant to the article. Remarks containing abusive and obscene language, personal attacks of any kind or promotion will be removed and the user banned. Final decision will be at the discretion of the Taipei Times.