Villagers worship reptilian-skinned calf in Cambodia
Villagers in the poor community of Damnak Sangke in central Cambodia live hand to mouth, but many dug into their pockets to help pay for a funeral on Friday for a three-day-old calf with a dark, reptilian hide that many believed was holy.
Outh Kdep, the calf's owner, said villagers believed in the animal's divinity because there had been a drought in the area for three months, but it rained the day after it was born.
The female calf was born on Tuesday and died on Thursday in this remote village in Pursat Province, 220km northwest of Phnom Penh. It had thick, dark, scaly skin like a crocodile's and legs with odd markings.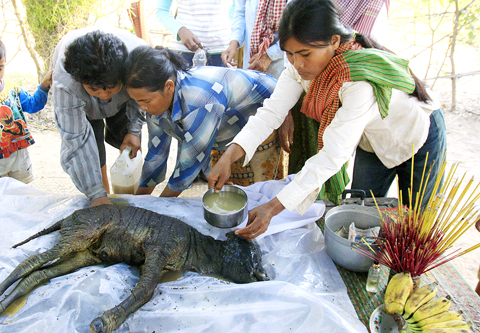 Villagers pour water on a dead "magic cow" during a two-day religious event in Damnak Sangke village in Pursat Province, about 200km northwest of Phnom Penh, Cambodia, on Friday. They later collected the water, which they believe acquired healing properties.
PHOTO: AP
Yim Rith, 60, a community leader, said Cambodians have for centuries worshiped a Cow God believed to bring peace and prosperity. The deity disappeared from their land long ago, but the calf may have been a sign it was returning to help them, he said.
Hundreds of villagers flocked to see the animal, lighting incense to pray for its well-being and collecting its saliva, believed to cure illness. The flood of visitors panicked the cow's mother, affecting her ability to produce enough milk to feed the calf, and it died.
But the faithful were undeterred. The calf's corpse was placed on a plastic sheet and people washed water over it in the hopes of making the liquid holy.
Srey Nak, 72, said that when some was applied to her joints and teeth, long-standing pains and aches went away.
"But I am very upset that the Cow God came to live with us for just three days and has now died," she said. "If she stayed longer, then many sick people could have been treated."
Un Dary, general director of religious affairs for Cambodia's Ministry of Cults and Religions, said he did not know about the case, but that many Cambodians, who are almost all Buddhists, also subscribe to animism — a belief that spirits can inhabit all sorts of living and inanimate objects.
Whenever an odd animal makes an appearance, he said, it is cause for the superstitious to celebrate. He speculated that the freak appearance of the calf may have been due to a vitamin deficiency or virus.
Outh Kdeb, 40, grieved for her calf on Friday.
Had it lived a bit longer, she said, "my family and the people in this area as well as the whole entire Cambodian nation would have achieved more peace and prosperity."
The animal was buried in a rice field near her house on Friday. She said villagers pooled 150,000 riel (US$35), and she contributed 200,000 riel (US$50) for a ceremony with six Buddhist monks to give thanks and wishes for the soul of the God Cow. They prayed for it "to be reborn as soon as possible."
Comments will be moderated. Keep comments relevant to the article. Remarks containing abusive and obscene language, personal attacks of any kind or promotion will be removed and the user banned. Final decision will be at the discretion of the Taipei Times.