Israel to curtail building of settlements: report
WAITING PERIOD News of the temporary halt is still far less than what the Obama administration has requested, which is a total freeze on construction in the West Bank
Israel is to revive a plan from last year for hundreds of homes in occupied east Jerusalem, a newspaper said yesterday, a day after the prime minister agreed to curtail settlement building in a gesture to Washington.
Construction of 450 housing units in the Pisgat Zeev settlement could start within six months after authorities reversed a decision to reject bids for the project because of pricing disagreements, TheMarker reported.
Now that the Israel Land Administration accepted the appeal by companies that responded to the tender last year, it should take about six months for the companies to obtain the necessary construction permits, said TheMarker, a supplement to the Ha'aretz newspaper.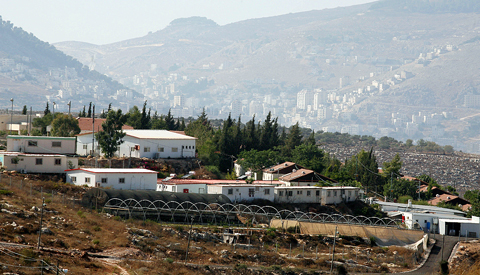 Caravans used for housing are pictured at a Jewish outpost on a hilltop near the northern West Bank settlement of Itamar on Tuesday. Palestinian villages are pictured in the background.
PHOTO: AFP
The housing ministry spokesman could not joined for comment.
Israeli Prime Minister Benjamin Netanyahu, Defense Minister Ehud Barak and Housing Minister Ariel Atias on Tuesday agreed no new tenders for settlement construction in the West Bank should be issued until early next year.
US President Barack Obama welcomed the move as a step in the right direction, although Israeli officials have stressed that the agreement did not amount to a formal government decision.
Palestinians and other critics dismissed it as insignificant, pointing out settlement construction continues in occupied Palestinian territory.
The Obama administration has been pressing for a freeze of settlement construction as a vital step towards reviving stalled Middle East peace talks.
The move wasn't the full settlement freeze the Obama administration has been demanding, but indicates that Israel is seeking a compromise in what has become a rare public disagreement with the US, its most important ally.
Atias confirmed that there have been no new government building offers since November. Interviewed on Channel 10 TV Tuesday evening, Atias said it was part of an effort to reach an agreement with the US.
"There is a given situation which is a waiting period," he said. "That's a fact and it can't be denied."
He refused to call it a building freeze.
Earlier, Netanyahu's office issued a statement saying: "There is not and has never been an agreement among the prime minister, defense minister and housing minister on freezing new construction" in the West Bank.
That denial could be read different ways, since "new construction" continues full force in the settlements, with thousands of housing units in various stages of completion. The government seems to be aiming at getting at least tacit US approval to finish projects that have been started, while holding up initial permits for new ones.
That is considerably less than the Obama administration has been demanding — a total freeze in construction in the West Bank settlements, where about 300,000 Israelis live among about 2.5 million Palestinians. Another 180,000 Israelis live in east Jerusalem neighborhoods built since Israel captured the Arab section in the War of 1967.
Their numbers are rising at the rate of about 5 percent a year and the government insists it must build housing to accommodate the increase. Critics charge that it is the other way around — the new, relatively cheap housing attracts more Israelis to the settlements.
Palestinians charge that Israeli settlement construction is strangling the West Bank, which they want for their eventual state along with the Gaza Strip, evacuated by Israel in 2005, and east Jerusalem.
Comments will be moderated. Keep comments relevant to the article. Remarks containing abusive and obscene language, personal attacks of any kind or promotion will be removed and the user banned. Final decision will be at the discretion of the Taipei Times.