Son of former prime minister faces tough campaign
Nearly any other year, Shinjiro Koizumi could safely assume he'd win election to Japan's parliament.
After all, this seaside district just south of Tokyo has been called the "Koizumi Kingdom." His father, a popular prime minister, held the seat for years, as did his grandfather and great-grandfather.
But this is not a normal year.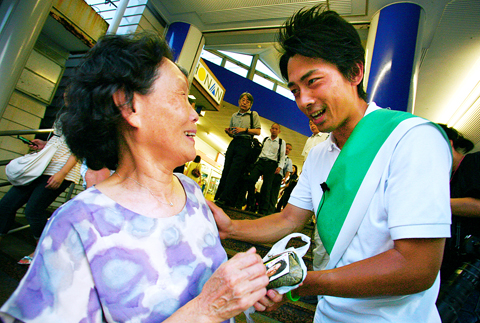 Liberal Democratic Party candidate Shinjiro Koizumi, a son of former Japanese prime minister Junichiro Koizumi, campaigns for parliament yesterday outside a train station in Yokosuka, south of Tokyo.
PHOTO: AP
The 28-year-old Koizumi is the target of growing public grumbling over the widespread practice of hereditary politics, in which a legislative seat is passed down from parent to child like an heirloom. Critics say the system discourages change.
And this year, voters want change. Economic woes and worries about a scandal-ridden pension system and soaring government debt could bring down the once invincible Liberal Democratic Party (LDP), which has ruled nearly continuously for more than five decades.
As campaigning got under way on Tuesday, the latest poll showed the opposition Democratic Party of Japan ahead by a wide margin. The Aug. 30 election is for the lower house, which picks the prime minister.
So the son of Junichiro Koizumi, who was prime minister from 2001 to 2006, is in a surprising fight for the seat his 67-year-old father is vacating.
The Democratic Party has made banning hereditary politics, called seshu, one of its main campaign pledges — although some of its own party members have benefited from the practice.
"Seshu is turning into a politically sensitive issue," said Minoru Morita, who has written books on politics. "The trend will be toward declining seshu because such candidates are going to have a harder time getting elected."
Even the LDP has refrained from backing the son of a retiring legislator as an official candidate in at least one district.
About a third of the legislators in the lower house have won seats held previously by a family member. Japanese Prime Minister Taro Aso counts past prime ministers among his relatives, including his grandfather and an in-law.
Calling out to commuters at a train station in his hometown of Yokosuka, Shinjiro Koizumi pleads for support, bowing deeply and shaking hands with any passer-by who will stop.
He tries to distance himself from his political lineage and his father, who has no scheduled public appearances to support his son. Wearing sneakers and a polo shirt, he looks more like the kid next-door than a prime minister's son.
He reminds voters he is a local boy, a surfer, and trumpets his lack of experience — to show he's not part of the political establishment.
"I have no record. I have no experience," he shouts through a megaphone. "But I have the passion to create a better Japan."
To a reporter, though, he doesn't hide his affection for his father.
"He's the perfect dad. There is no other father in the world who gave so much love," he said.
His main opponent is equally intent on driving home the message he's a regular guy, the son of a truck driver. Katsuhito Yokokume, a 27-year-old lawyer who graduated from the prestigious University of Tokyo, pedals around on a bicycle to woo neighborhood voters.
"It is too strange by global standards that a change of power hasn't happened for so long in Japan," the Democratic candidate says.
However, the two young candidates don't differ much on policies. Both promise an economically healthier Japan and a problem-free pension system.
Comments will be moderated. Keep comments relevant to the article. Remarks containing abusive and obscene language, personal attacks of any kind or promotion will be removed and the user banned. Final decision will be at the discretion of the Taipei Times.