Death of Indian 'queen' Devi triggers royal squabble
UGLY SHOWDOWN Many relatives of Gayatri Devi were at each other's throat since her death on July 29 as they prepared for the battle over her will, property and money
The death of an Indian queen who personified a lost era of aristocratic privilege and exotic glamour has sparked a bitter inheritance dispute among her surviving family.
Gayatri Devi was one of the most celebrated beauties of the last century, mixing traditional palace life in the royal city of Jaipur with private airplanes, cocktail parties and shopping trips to London.
She and her dashing husband, the Maharajah of Jaipur, Man Singh, whom she married in 1940, were idolized by Jaipur's local population and the international press, but her death has revealed a family at odds over property and money.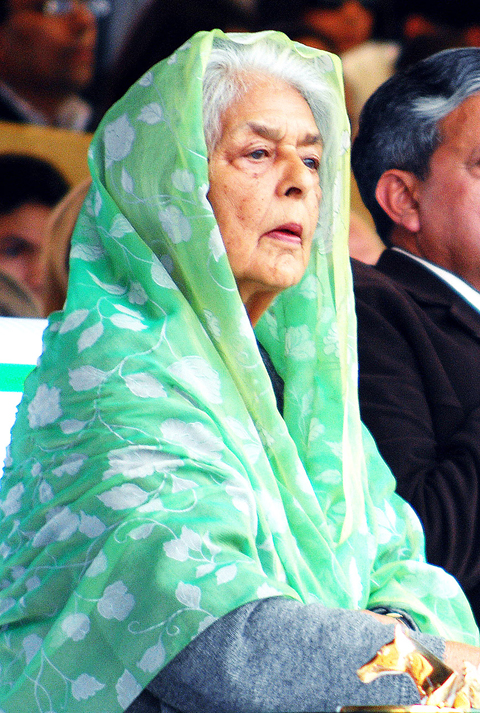 Maharani Gayatri Devi, the widow of the Maharaja of Jaipur, sits in a VIP stand during an international polo match at the Jaipur Polo Grounds in New Delhi, India, on Feb. 18, 2007.
PHOTO: AFP
Indian newspapers have reported that many relatives are in conflict with each other and that, since Gayatri Devi's death on July 29, they have been positioning themselves for the coming battle over her will.
The Times of India predicted an "ugly showdown" over a fortune estimated at between US$200 million and US$400 million, with the lease of the stunning Rambagh Palace in Jaipur likely to be one of many areas of dispute.
Gayatri Devi and the Maharajah lived in Rambagh when they first married before it was converted into a 80-room "heritage" hotel.
After her husband died in 1970, she lived in Lilypool, a smaller house in the palace grounds.
Local media reported that a door she used to walk between the two buildings had been mysteriously bricked up since her death — an apparent first move in the complex legal wrangles that lie ahead.
Gayatri Devi's only son, Jagat Singh, died in 1997 and the Times reported that her grandchildren, Devraj and Lalitya, have been waiting until official mourning finished at the weekend to press their claims.
"Things will be clear only after the will is read out," an unnamed associate of Devraj was quoted by the newspaper as saying. "Disputes will send a wrong message and damage the family's reputation."
Gayatri Devi was the third of the Maharajah of Jaipur's three concurrent wives and when he died on the polo field the title passed to Bhawani Singh, the son of his eldest wife.
Different branches of the family still exert control over the Jaipur estate, which has remained partially intact long after the system of "princely states" was dismantled following independence from Britain in 1947.
The fate of Gayatri Devi's legacy — including stakes in at least 17 palaces, forts, hotels and houses, plus a famous jewelry collection — is unclear even to insiders.
The Statesman newspaper suggested that she may have changed her will at the expense of her two grandchildren.
Her son married into the Thai royal family and left India, but the marriage ended amid much acrimony.
"He was not allowed to see or communicate with his children," Gayatri Devi told one interviewer recently. "He took to drinking to offset his unhappiness and in the end this caused a liver problem and eventually his death."
Comments will be moderated. Keep comments relevant to the article. Remarks containing abusive and obscene language, personal attacks of any kind or promotion will be removed and the user banned. Final decision will be at the discretion of the Taipei Times.