More troops needed in Afghanistan: NATO
NATO needs more troops in Afghanistan if the mission is to succeed, the alliance's secretary-general said on Friday.
Secretary-General Anders Fogh Rasmussen told the BBC that NATO had made progress fighting Taliban insurgents in southern Afghanistan, partly because the number of soldiers there was increased.
"I think we need more troops," said Rasmussen, who took over as NATO chief from Jaap de Hoop Scheffer this month. "I have seen progress in the south, not least thanks to the increase in the number of troops. So definitely the number of troops matters."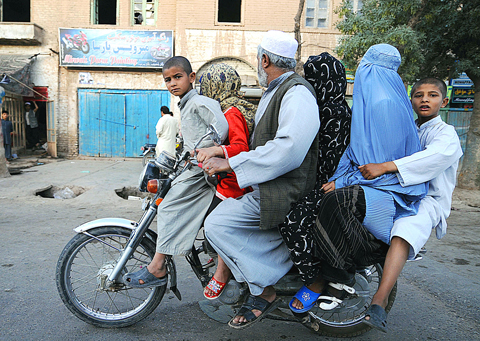 A family rides a motorcycle in the old city of Herat, Afghanistan, on Friday. Afghans go to the polls on Aug. 20 to elect a president for the second time in the history of their turbulent country. NATO Secretary-General Anders Fogh Rasmussen said on Friday the alliance would need more troops in Afghanistan to win the war against the Taliban.
PHOTO: AFP
US officials are considering whether to ask for more troops as they prepare a report on the war in Afghanistan. A draft assessment called for speeding up the training of Afghan soldiers and police — a job that would require more foreign trainers.
Rasmussen said on Friday that the solution for Afghanistan could not rest in the military alone, but also with providing "the Afghan people with better life opportunities."
"This will be at the core of our new strategy," he said. "In a few weeks' time, our commanders in the field will provide us with an updated assessment of the situation. Based on that, we will take the necessary decisions to proceed."
Last month, British Foreign Secretary David Miliband told NATO allies that efforts must be made to talk to rank-and-file Taliban members at the same time as troops are pursue hardline fundamentalists committed to global terrorism.
He said the Taliban should be given the chance "to leave the path of confrontation with the government."
Meanwhile, a British newspaper has published an interview with the country's next military chief in which he was quoted as saying the mission in Afghanistan could last up to 40 years.
General David Richards said the 9,000 British troops deployed in Afghanistan should only be needed for the medium term, according to the interview in Saturday's Times.
But Britain "will be committed to Afghanistan in some manner — development, governance, security sector reform — for the next 30 to 40 years," he said.
Comments will be moderated. Keep comments relevant to the article. Remarks containing abusive and obscene language, personal attacks of any kind or promotion will be removed and the user banned. Final decision will be at the discretion of the Taipei Times.