Manila bids farewell to Aquino
LOVED AND LOST: Fire trucks shot arcs of water above the funeral procession, yellow confetti showered the roads and hundreds of thousands of mourners lined the streets
Former Philippine president Corazon Aquino's body made its final journey through Manila yesterday to be buried next to her assassinated husband in a culmination of grieving for the icon hailed as the example of moral leadership.
Over the last five days, hundreds of thousands of mourners have filed past her open casket. Family, friends and former aides crowded into the Manila Cathedral late on Tuesday to eulogize the accidental opposition leader who led the 1986 "people power" uprising and drove away the 20-year repressive rule of Ferdinand Marcos.
Aquino, the 11th Philippine president, died on Saturday at age 76 after a yearlong battle with colon cancer.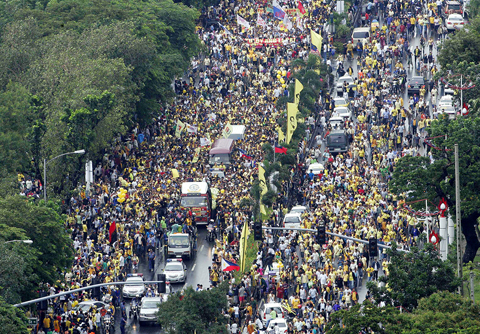 The coffin of late Philippine president Corazon Aquino passes down a street in Manila yesterday during her funeral procession. Hundreds of thousands of people turned out to bid farewell to Aquino.
PHOTO: AFP
Her successors Fidel Ramos and Joseph Estrada, the latter deposed in a second popular uprising in 2001 on corruption allegations, together with East Timor President Jose Ramos-Horta, attended yesterday's requiem Mass.
Aquino inspired East Timor's struggle for independence from Indonesia a decade ago, Ramos-Horta said.
"I think the greatest tribute that Filipinos can pay to Corazon Aquino and so many others who gave their lives for democracy is ... there should be no more dictatorships again," he said.
Philippine President Gloria Macapagal Arroyo, who was at odds with Aquino after she called on Arroyo to resign because of vote-rigging allegations, paid a quick visit to the wake yesterday morning upon her return from the US and left before the church ceremonies and procession.
Hundreds of thousands chanting "Cory" lined Manila's rainy streets and walked behind the flatbed truck carrying Aquino's flag-draped coffin as the procession, lashed by winds, inched its way to her final resting place beside her husband, Benigno "Ninoy" Aquino, at Manila Memorial Park. Yellow confetti showered the roads.
"We never saw any wrongdoing on her part," housekeeper Edith Sabas said.
Fire trucks blasted their cannons, forming arcs of water above the procession in a salute to the former president. Yellow ribbons and balloons flapped from lamp posts, trees and vehicles — a tribute to Aquino's signature color, which became a symbol of her movement.
Hundreds of bikers and cyclists in yellow shirts led the convoy.
At the simple white-painted tomb at the family mausoleum, interior designer Merly Querubin, wearing a baseball cap adorned with a yellow ribbon, said her country had two kinds of leaders.
"One who we follow out of fear and one who we follow out of respect. We have lost a leader so respected," she said.
In a highly symbolic gesture, the late Marcos' two children paid their last respects on Tuesday to the woman who toppled their father.
It was unlikely, however, to reconcile the families' bitter rivalry.
Aquino's brother-in-law, former senator Agapito "Butz" Aquino, welcomed them at the wake, saying the family had "no fight with the children" of Marcos.
Aquino rose to prominence after her husband was assassinated in 1983 as he returned from US exile to oppose Marcos. Hesitant, she inherited his mantle and agreed to run against the strongman in 1986.
Comments will be moderated. Keep comments relevant to the article. Remarks containing abusive and obscene language, personal attacks of any kind or promotion will be removed and the user banned. Final decision will be at the discretion of the Taipei Times.