US veterinarians riddle lucky pets with long needles
POKING PETS: A spokesman for the American Veterinary Medical Association said the number of acupuncturist vets was rising, but that evidence for its efficacy was 'anecdotal'
Chronic back pain, neurological troubles, arthritis: Jordan Kocen's veterinary clinic has a solution, offering acupuncture as an alternative to his many patients.
"I use homeopathy, Chinese herbs and acupuncture," said the 50-year-old veterinarian, who practices at "South Paws" in Fairfax, Virginia, just outside Washington.
"It's the same type of needle as for people," he said. "The basic acupuncture channels are the same. Acupuncture pathways mirror the nervous system and stimulate it the same way."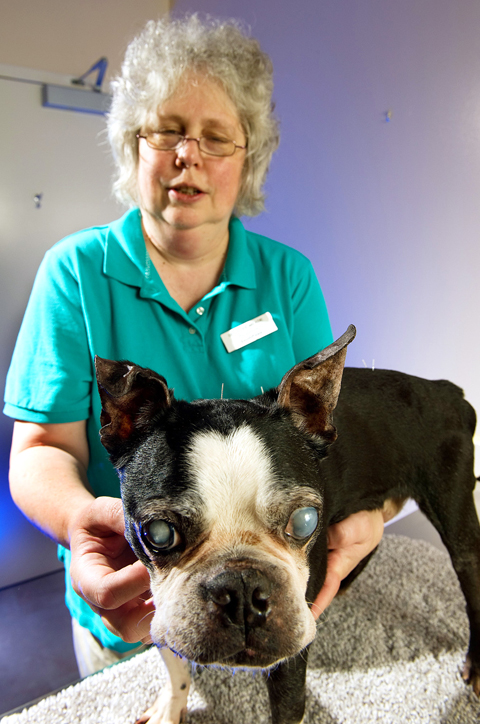 Pet owner and vet receptionist Scottee Meade holds her dog as several acupuncture needles stand up in the back of 14-year-old Jake, a Boston Terrier with back problems, at South Paws Veterinary Specialists & Emergency Center in Fairfax, Virginia, last Wednesday.
PHOTO: AFP
Kocen had just riddled with needles a 13-year-old cat, Alexa, whose mysterious symptoms — constantly staggering and nodding her head — have improved in the four weeks since the sessions began, owner Joan Ferguson said.
"I had her do two MRIs, a spinal tap and some blood work. [It cost] a lot of money. The neurologist just didn't know what to suggest," she said.
Desperate, Ferguson turned to an acupuncturist and Alexa has not batted an eyelid at the treatment, rather finding relief in the forest of needles lined down her spine.
Increasing numbers of vets are turning to this alternative therapy in the US where the market for pet products, never lacking in imagination, is constantly growing.
"More and more pet owners are looking at holistic modality. It's growing. Three hundred veterinarians each year take a post-doctoral course in acupuncture. It's been like this since 2002," said Vikki Weber, executive director of the International Veterinary Acupuncture Society.
Weber, whose group has 900 members in the US, said acupuncture has been recognized as a valid treatment by the American Veterinary Medical Association.
The number of acupuncturists is "certainly on the rise" and there is "some anecdotal evidence to support the efficacy" of alternative veterinary medicine, including acupuncture, said Michael San Filippo, spokesman for the association, which focuses on conventional medicine.
Kocen, who has practiced acupuncture since 1995, said that "80 percent of the cases show improvement."
He now has some 1,500 clients, with between eight and 15 appointments per day shared between himself and his assistant.
Clients pay US$95 for each consultation.
Acupuncture is "more accepted," Kocen said as he leaned over one of his regular customers, an 11-year-old Saint Bernard dog named Lexus who has suffered weekly epileptic fits since the age of two.
Owner Sally Rabb has brought Lexus in for a monthly acupuncture session for the past four years. He also receives five doses of anti-epileptic medication per day.
"We can see a change in him after he had his treatment," Rabb said. "He can't get out of the car fast enough, he likes to come here."
As with a clinic for humans, the vet goes from room to room to place or check the needles during the 20-minute sessions.
"It was an opportunity to expand what I do and it kept me busy," said Kocen, before turning to Trixy, a handicapped dog rescued by Washington Post photographer Carol Guzy after deadly Hurricane Katrina devastated New Orleans in Louisiana.
Comments will be moderated. Keep comments relevant to the article. Remarks containing abusive and obscene language, personal attacks of any kind or promotion will be removed and the user banned. Final decision will be at the discretion of the Taipei Times.